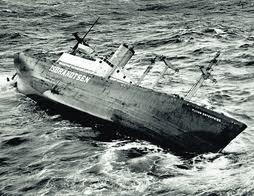 Some people might question our choice of reading material before we went on a seven-day cruise. Not long before we departed, we finished reading Simple Courage by Frank Delaney, an account of the Flying Enterprise, which was hit by two rogue waves in the North Atlantic in late 1951. The first one "broke" the ship and the second one knocked her into a 60° list. Little wonder my wife was humming "The Wreck of the Edmund Fitzgerald" while we drove to the Port of Houston for our cruise to celebrate our 20th wedding anniversary.
Little did we know: on the first full day at sea, the program listed a book club. The title on offer was Dead Wake, which sounded like a murder mystery, so we checked it out. Turns out it's a non-fiction book by Erik Larson about the last voyage (and, ultimately, the sinking) of the Lusitania. Inspired choice to pass out on a cruise ship. However, we really enjoyed it: it presented the historical context (and you know, I'm all about the historical context!), the personalities aboard the ship, the political situation at the time—as well as Woodrow Wilson's personal anguish—and it also presented the point of view of the captain of the U-20 whose torpedo brought down the mighty ship, thanks to his log book. Being on a cruise ship allowed us to compare and contrast the experience in 2015 to that in 1915. I've never read Larson before, but I plan to tackle some of his other books. Maybe we'll read Isaac's Storm (about the 1900 Galveston hurricane) during our next hurricane. I emailed him when we got back to find out if he knew that his book was being featured on a cruise ship, but he said that neither he nor his publicist were responsible, and he seemed greatly amused.
We splurged and got a suite at the back of the ship, with a balcony. The room was comparable to what you'd get at an extended-stay motel, with a bedroom, living room (divided by a pull-curtain), bathroom with separate spa tub and shower area, and a sink, mini-fridge area. Also a DVD player and two TVs, one facing in each direction, which were surplus to requirements. We received a lot of special perqs throughout the cruise as suite residents, which made us feel pampered.
The main feature for us was the balcony. It was about ⅓ the width of the ship, big enough for two deck chairs side by side and a small round table that could seat four. We spent a lot of time on the balcony, watching the Gulf and the Caribbean roll out behind us. There was an overhang, so we were only rarely in direct sun, which meant we didn't have to ration our time for fear of sun burn. Except when we were in port, it was never too hot to sit out there, nor too cool. We even took a couple of our meals out there. Did I mention we loved the balcony? So much so that we decided not to go on any shore excursions (Grand Cayman, Costa Maya and Cozumel). We preferred to stay on board, taking advantage of the lower census of passengers.
It was also a good perspective from which to watch the docking and departing process. Seeing these great ships almost parallel parking, backing up, going sideways, it's quite impressive. In Costa Maya, we left at 7:30 PM, when it was dark and drizzling. A couple of workers on the wharf were waiting for the ropes to slacken so they could pull them off the bollards. They were in yellow rain slickers and one guy was dancing to pass the time. We could just barely hear him whistling "La Cucaracha." My wife is a world-class whistler, so she whistled the song back at him. We were four or five decks above the waterline, so maybe fifty feet up, but he heard us all the same, and we had a little back and forth with them. They were all alone on the wharf. It was a fun little moment.
We partook of some of the entertainment options, but we didn't darken the doorways of the casino (not our thing) nor any of the shops. A lot of the on-board activities are thinly disguised infomercials, so we tended to steer clear of those, too. Lots of music, which was nice. Great dining options. I'm amazed I didn't put on any weight, because we ate multi-course meals and had desserts galore, which we don't often do. We ended up sharing tables with total strangers on a few occasions, but we always enjoyed the encounters. A lot of our fellow travelers were multiple-repeat cruisers, having logged tens of trips. One couple goes on a cruise every other week. The record-holder on this cruise was a man who'd spent something like 1400 days on cruises, or four solid years at sea.
Given that this wasn't a holiday week, there weren't so many younger people and we were at the younger edge of the median range, I'd say. For some reason, I also noticed a lot of the older men had pony tails. We met up with one interesting "couple" (I won't say why they were interesting or why I put "couple" in quotes, because that would spoil things) at the bar one afternoon and I came away from the encounter with a great idea for a short story.
In addition to Dead Wake, which I read to my wife, I finished two novels (Even Dogs in the Wild by Ian Rankin and The Crossing by Michael Connelly), one novella (The Grownup by Gillian Flynn) and most of a third novel (Career of Evil by Robert Galbraith, aka JK Rowling). I did no writing at all, even though I'd planned to proof a novella. We were completely off the grid for the seven days we were away. We didn't even bring our cell phones on board. No phone, texts or emails, no internet, no TV. I turned on our set a couple of times to get to the channel that showed our location and flew past any of the news channels along the way.
Someone insisted on telling us about the terror attacks in Paris on Friday evening, but if we hadn't happened to sit next to them while waiting for dinner, we wouldn't have heard about it at all. (My association with the Bataclan comes from the Supertramp album Paris. During a break between songs, John Anthony Helliwell marvels at the size of the crowd at this concert and he remembers back to the group's first show in the city, which had about eight people in the audience—at the Bataclan concert hall.)
---
While we were away, my historical context essay about Different Seasons went live: Winter, Spring, Summer and Fall, as well as Rich's essay about his recollections of the book then and now.
I was also delighted to learn that my story "Opposite Sides" was one of the finalists in the IV Edition of the Flash Fiction Competition César Egido Serrano, Museum of Words. There were 35,609 stories from 149 countries, so to be one of 18 Americans to make it to the final 250 or so out of that mass of submissions, as selected by 20 creative writing professors, is an honor indeed.