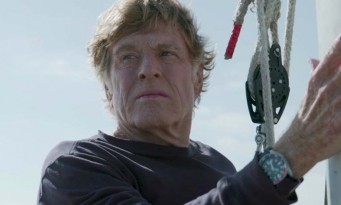 I posted my review of What If?: Serious Scientific Answers to Absurd Hypothetical Questions by Randall Munroe, former NASA robiticist and author of the xkcd webcomic, this weekend. The book is fun and funny and educational.
I'm back on my Travis McGee re-read, up to #8, One Fearful Yellow Eye. It's been over a year since I read #7, but I intend to get through them all again eventually. This one I don't remember as well as some of the others. It's set in Chicago and is about an old friend whose husband liquidated several hundred thousand dollars in assets before is anticipated death, and no one knows where the money went.
We watched All Is Lost, starring Robert Redford, on Netflix this weekend. A guy is sailing in the Indian Ocean, hundreds of miles from anywhere, when things start to go bad. First, his boat collides with a container full of shoes that must have been washed off a ship. Then his electronics go out. Then…and then…and then…It just goes from bad to worse to worse still. There is a bit of "dialog" at the beginning, as Redford's character, known only as "our man," narrates the letter he writes to loved ones back home before tossing it overboard in a bottle. From that point forward, there is no dialog (other than a couple of Hey! Over Here!'s and an expletive or two). Our man does not talk to himself. He does not ruminate over his condition out loud. There are no subsequent voice-overs. In fact, until things get really bad, he is quite serene and placid. He even shaves at one point. But this is a taut, tense drama, man vs. nature more than anything else, but survival at its utmost. Highly recommended.
Yesterday we saw My Old Lady in the local cineplex. It stars Kevin Kline, Kristen Scott-Thomas and Maggie Smith. Kline's character, a recovering alcoholic with three divorces behind him, thinks his recently deceased father may have left him the solution to all of his economic woes. He inherits a substantial apartment in Paris, conservatively worth €12,000,000. However, there's a catch. The apartment is attached to a viager, which means that not only can Maggie Smith's character live there until she dies (she's 92, but in fine fettle), the apartment owner has to pay her  €2400 per month. He doesn't have two pennies to rub together, so this is an unpleasant shock. There are many more to follow. Smith's character's daughter (Scott-Thomas) hates him. There are family secrets the two women know that Kline's character does not (and a couple vice-versa). This isn't entirely a feel good movie, and it's not at all farcical, though it is funny at times. The emotions that are exposed are too raw for that. There are bottoms to hit before any of the characters can arise again. It is filmed in Paris, which made us nostalgic to go back again. What a lovely city.
We also got caught up on three episodes of Doctor Who. I had seen "Listen" already, but my wife hadn't, so we watched again. Still charming. Then there was the one about the bank job, which was fun. Finally, the one about the caretaker. Were we not meant to understand how they escaped from their predicament in the opening scene? It felt like we missed something. Maybe it's not important—maybe it was only meant to show the extremes to which Clara puts herself by frolicking around in time and space. It's interesting that the Doctor doesn't really seem to care for himself all that much (underscored in the bank heist episode), and it's a wonder that Clara still does because he's not very good with her any more. He seems to have lost his touch with her. Maybe it's the eyebrows getting in the way.
I also watched a screener of Big Driver, the Lifetime adaptation of King's novella from Full Dark, No Stars, which airs on October 18. It stars Maria Bello, with appearances by Olympia Dukakis and Joan Jett. There was a lot of concern that, given the venue, the story might get watered down. I'm here to tell you it isn't. The first half hour has some scenes that are very difficult to watch, and King's story is 99% there, although a few things are switched around and some scenes condensed. Jett is okay, not great, but Dukakis is fun and Ann Dowd from The Leftovers is fine. I'll have a longer (p)review closer to air date.
I'm also nearing the end of Season 1 of Hemlock Grove. At 30 minutes a day, while I'm on the elliptical, I should be pretty much done by Friday.