December 2, 2013
In early 2012, I saw the trailer for a campy movie called You Can't Kill Stephen King about a group of young people vacationing near the author's summer home who get killed off one at a time. The trailer promises a horror movie that breaks all the rules…by not breaking any. The project is described in tongue-in-cheek fashion: six stereotypical characters with weak story arcs, a town full of overacting antagonists, low-budget gratuitous violence and cheesy King references.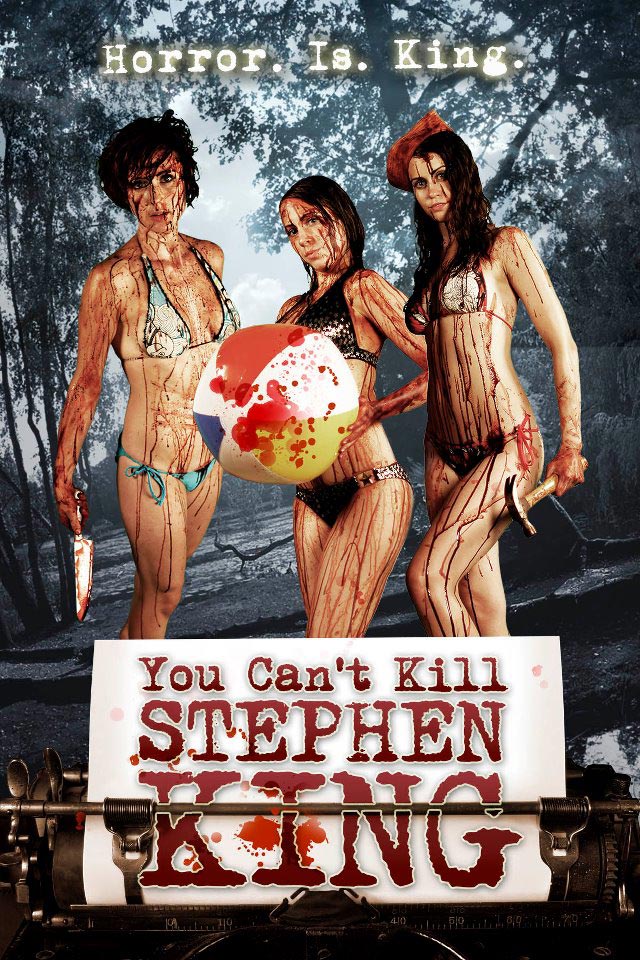 The nucleus of the story was written several years ago by Monroe Mann—an alumnus of the Fryeburg Academy in western Maine, whose staff was also involved in the production—and stand-up comedian Ronnie Khalil while they were vacationing in the lake house ultimately used in the film. Co-writer Bob Madia helped complete the script—he contributed much of the King lore and references. Mann and Khalil co-produced and team-directed with cinematographer Jorge Valdés-Iga, and they also star in the film.
Principal photography took place over a 19-day period. Valdés-Iga told NewEnglandFilm.com that the cast and crew, roughly thirty people, all lived together and filmed in the cabin, which was designed for five people. While this was fun at first, the close quarters turned production into a pressure cooker. "It slowly made us all want to kill each other," he said. "But for some reason this created a 'great' energy for the film, since all the characters had to hate each other anyways." Increasing the stress was the facts that three directors were trying to achieve a single vision. They developed a consensus system in which any two could outvote the third when there were disagreements.
The fictional town of Encomium (a word that means a speech or piece of writing that praises someone or something highly) stands in for the location of King's home, the name having been changed to protect the author's privacy. (Apparently at one point the filmmakers obtained a permit to shoot in the wrong town!) Mann sent the script to King and saw him at the local market during filming, but King declined their invitation to make a cameo appearance.
Naturally, I was intrigued. I contacted the filmmakers to see if I could get a review copy. At that point, they were still working out distribution deals. The movie played at a few festivals, including the Marche Du Film in Cannes, France, and won the People's Choice Award at the second annual Lewiston Auburn Film Festival in 2012. (All proceeds from that screening—billed as its world premiere—were donated to the Kezar Lake Watershed Association.)
The Camelot Distribution Group picked up distribution rights to the movie, which was subsequently sold into a number of markets. It is available on DVD in Australia and New Zealand, and was shown on Turkish television and in theaters in Japan. Other Asian and European deals have been completed, though a North American release is still pending.
I reached out to the creative team again recently and they were able to provide me with a screener. After reading a few comments left on a King-themed message board by people who had seen the film, my expectations were low. Several reported giving up after only a few minutes. However, I was pleasantly surprised. A Return to Salem's Lot is a bad film. Creepshow 3 is a terrible film. You Can't Kill Stephen King is fun. It looks terrific and, for the most part, features strong performances. Valdés-Iga said that the directors tried to make sure the actors took the situation and the sometimes ridiculous dialogue seriously instead of playing for laughs, and in this they were mostly successful.
The set-up is indeed stereotypical and pure King. Three girls and three guys on vacation encounter a bunch of strange, taciturn Maine types. Monroe (Mann) is a former line cook from a ranger regiment who suffers from PTSD. Ronnie (Khalil) is a geeky King fan who hopes to catch sight of the author—he almost faints when he finds an autographed copy of the pop-up version of The Girl Who Loved Tom Gordon in the cabin's basement. Lamont (Justin Brown), "the only black man in Maine," loves his rap played loud. Monroe's long-suffering girlfriend Lori is played by Kate Costello and his no-nonsense sister Hilary by Crystal Arnette. Rounding out the cast in more ways than one is Nicole (Kayle Blogna), the obligatory large-chested, self-absorbed airhead who Ronnie lusts after.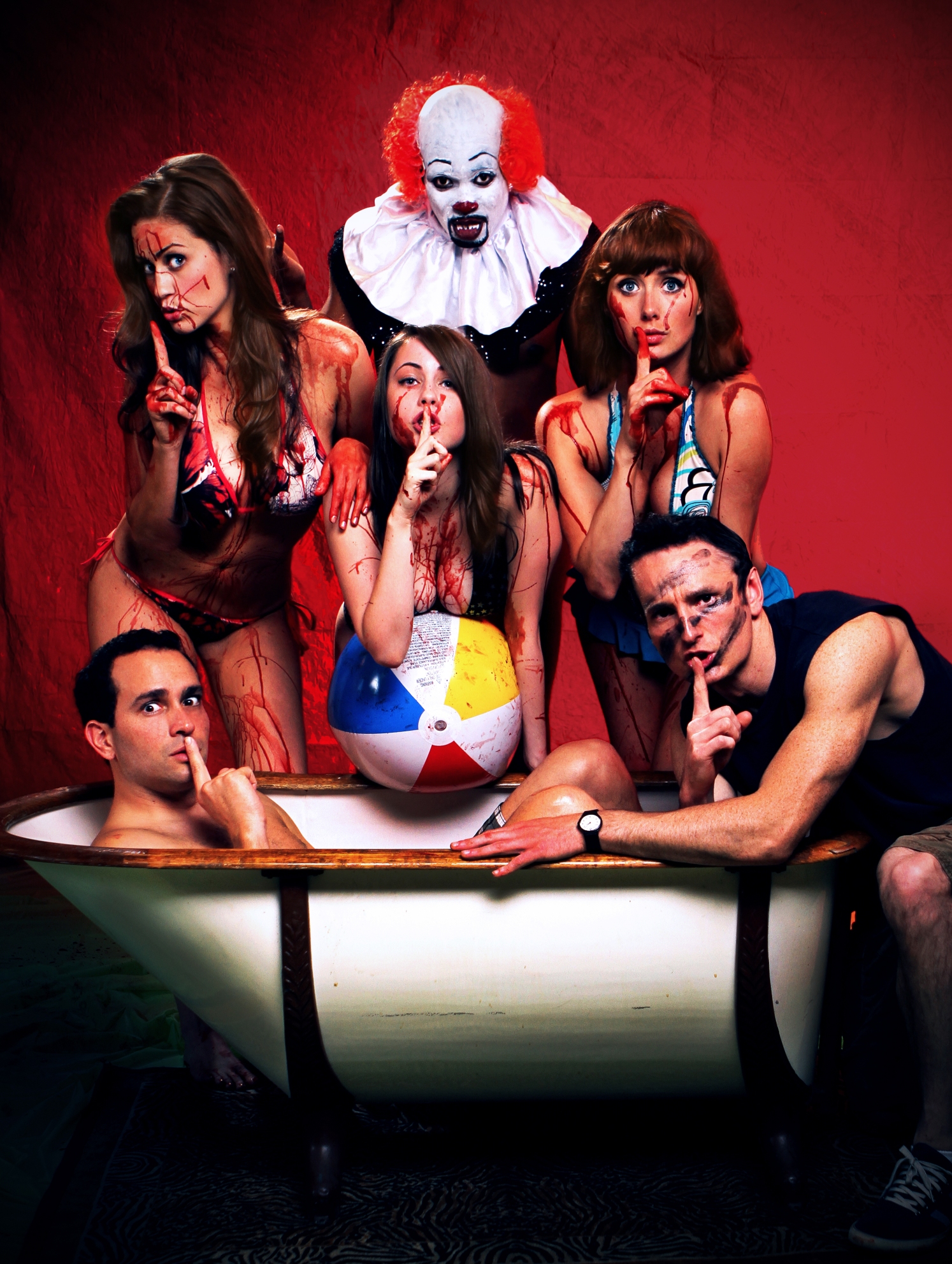 There's actually a very funny idea underlying this story; however, it doesn't become apparent until late in the film. There are several clues that will make sense once the truth is revealed, right down to the horror movie trope of creepy chanting. Pay close attention!
One at a time, the main characters are slaughtered, starting with Lamont. The remaining five friends (a term I use loosely) hole up in the remote cabin, except when circumstances send them out into the night to meet their gruesome fates. The murders are inspired by incidents from King's short stories, including "Beachworld," "Strawberry Spring" and "The Man Who Loved Flowers."
The movie is littered with other King references, including a disturbingly creepy clown (some things can never be un-seen), a boat named Christine, characters named Pangborn, Verrill, Dodd and Bachman, a host of quoted dialog from and references to Kubrick's The Shining (Ronnie is reading the novel), and a tattoo in the shape of the Crimson King's all-seeing eye. Despite all these inside jokes, Khalil says that you don't have to be a die-hard King fan to enjoy the movie.
Don't let me mislead you into thinking this is an Oscar contender; it's not. It is, however, good fun and quite impressive given their obviously limited resources. While the cinematography is high quality, featuring aerial and underwater shots, the special effects are strictly low budget. The directors wisely chose to minimize the amount of blood and gore to avoid inundating viewers with cheesy visuals. I did get a kick out of the foley sound effects whenever anyone flashes a knife or when Monroe does his ranger stuff.
You Can't Kill Stephen King has a wry sense of humor and it does an especially good job of building up false tension by relying on horror movie expectations. Ronnie's character is a little too over the top compared to the others—Khalil says that in real life he's creepy but not that creepy—who are at least marginally realistic despite being obvious stereotypes. Crystal Arnette's performance is the most nuanced, but the others get the job done without embarrassing themselves too much.
If you get a chance to see this, stay through the inside-joke-filled credits (Assistant to Ronnie Khalil: Ronnie  Khalil) for a final scene that horror movie fans should appreciate.