An interactive approach to King's greatest works, The Stephen King Illustrated Companion features a wealth of unseen memorabilia from the author's desk and insightful text that reads between the lines to uncover King's own compelling biography. Supplemented with rare and previously unpublished ephemera from King's archives, such as hand-edited manuscript drafts, revealing letters between King and his editor, and personal mementos from his career, this unique companion volume tangibly illuminates the writer's works and life in a way never done before.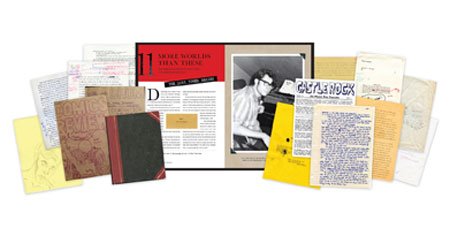 The Stephen King Illustrated Companion – 1st edition
Publisher: Fall River Press
Pub date: 10/05/09
ISBN-13: 978-1-4351-1766-2
ISBN: 1435117662
List price: $24.98
The Stephen King Illustrated Companion – 2nd edition
Publisher: Sterling
Pub date: 11/05/13
ISBN-13: 978-1-4549-1125-8
List price: $29.95
Tutto su Stephen King
Publisher: Sperling & Kupfer; Series: PANDORA
Pub date: 10/26/2010
ISBN: 8820049228
ISBN-13: 9788820049225
Price: € 40.00
Hardcover dimensions: approximately 12.3″ x 8.3″
Table of Contents
Introduction: Mr. Horror USA
Chapter 1: The Early Years
Chapter 2: Room 217—The Shining
Chapter 3: The Walkin' Dude—The Stand
Chapter 4: Welcome to Castle Rock—The Dead Zone
Chapter 5: Sometimes Dead Is Better—Pet Sematary
Chapter 6: Pennywise Lives—It
Chapter 7: Number One Fan—Misery
Chapter 8: The Night Journey—The Green Mile
Chapter 9: Things That Go Bump—Bag of Bones
Chapter 10: The Accident
Chapter 11: More Worlds Than These—The Dark Tower series
Chapter 12: The Thing with the Endless Piebald Side—Lisey's Story
Chapter 13: Changing the Past Isn't As Easy As You Might Think—Under the Dome, 11/22/63 (2nd edition)
Conclusion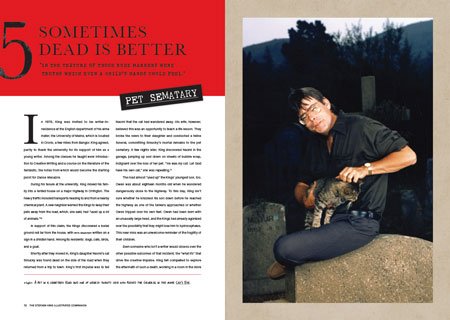 Exploring Where Savage Things Grow…
With thousands of horrific pages published since the first lines of Carrie, Stephen King's gripping perennial fiction has earned him the rightful appelation "The Master of Modern Horror." The Stephen King Illustrated Companion takes a critical look at King's most iconic works and reads between the lines to uncover the personal influences and demons as reflected in each monster, epidemic, and depraved character. Unseen family photographs and 16 pieces of previously unpublished ephemera—such as handwritten manuscript notes, typed early drafts, lengthy journal entries, and doodles for King's college newspaper (1st edition only)—complete this tangible tour. Packed with fascinating biographical details, literary interpretations, and personal memorabilia, The Stephen King Illustrated Companion is a must-have addition to any true fan's library.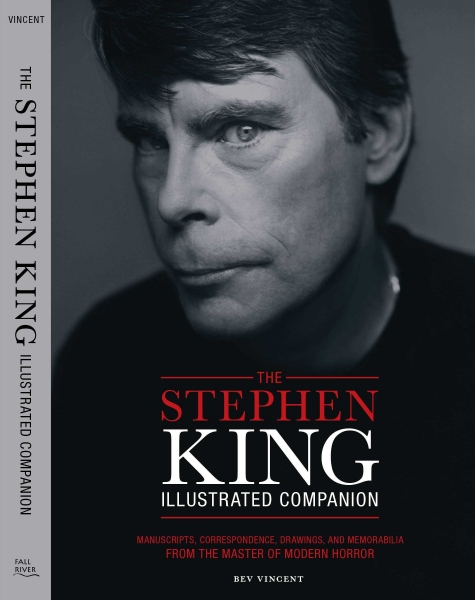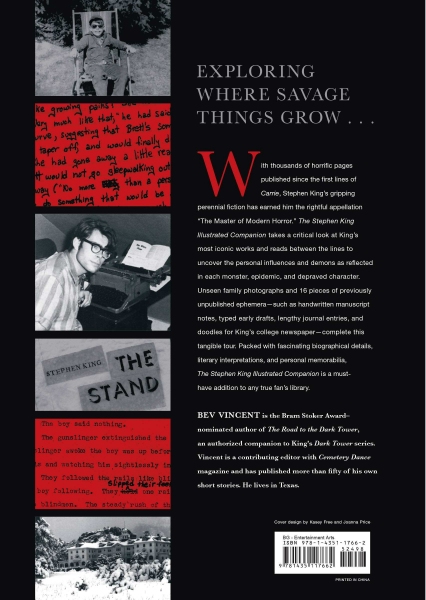 Interviews
Awards and Nominations
Reviews & quotes
"If you haven't seen Bev's The Stephen King Illustrated Companion, you have to. It too is an amazing and beautiful book." Robin Furth, author of Stephen King's The Dark Tower: The Complete Concordance
If you're an avid "King" fan as I am, you'll want to go to Barnes & Noble.com and order yourself a copy of Bev Vincent's new Stephen King biography, The Stephen King Illustrated Companion. It was published by Barnes & Noble, and they appear to be the only ones carrying the book. I just got mine in the mail late yesterday afternoon, and I was totally blown away by the book. For some strange reason, I thought it was going to be a Trade size paperback, but it wasn't. The book is a large size hardcover, and it covers most of the Maestro's life up to the present. There are hundreds of pictures in the book that depicts King's life as a little boy to the present as the reigning king of horror, no pun intended. Each chapter seems to deal with a major part of the author's life from his beginnings as a writer and up through Lisey's Story and the Dark Tower series. Also, each chapter has an attached envelope that has photocopies of pages from the author's earlier stories as a teenager to some of his major manuscripts. You'll see one of his letters to Bill Thomspon, the editor at Doubleday, who changed the course of the world by encouraging a young, unknown writer to finish a small novel called Carrie. Last, the overall quality of Bev's book is awesome, especially when you consider that it only cost $24.98. This was money well spent, and I'm honored to add it to my once again growing library of Stephen King novels. Don't waste anytime in getting a copy of this gorgeous book, and no, Bev isn't paying me anything to write this. I'm doing this a fan of one of the world's best writers to all of the other fans out there. This is definitely a book you will want to read and own. Enough said.
— Wayne C. Rogers
Like any celebrity, literary or otherwise, Stephen King has been the subject of much non-fiction: critical volumes, collections of interviews, unauthorized biography, even an art book.  Much of this material inevitably reprints the same basic information, and is of little value to the reader interested in new content and new insight. The Stephen King Illustrated Companion is a happy exception.  As the title suggests, its visuals are the highlight, including rare photos of the author throughout his life, images of people and places associated with his fiction, and reproductions of manuscript, typescript, and proof pages of his work.  But the text by Bev Vincent that accompanies these fascinating ephemera is well-written, focusing on a few selected books to highlight the relationship between King's life and art.  The basics of his biography will be familiar to constant readers, but Vincent's well-footnoted research has dug up a range of anecdotes and details at least a few of which are likely to be unknown.  The Stephen King Illustrated Companion is an unusually in-depth, well-designed coffee table volume, to be recommended above all but a few books on its famous subject.
— Brendan Moody