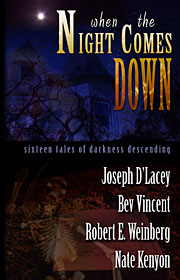 TRAPPED WITHIN THE TWILIGHT…
Call it what you like:  dusk, twilight, sunset. It's that magical moment between daylight and darkness when anything is possible — the evening ahead promises untold enchantment… or nameless dread.
Within are 16 tales of the oncoming blackness, including more than the usual cast of characters.
There are shapeshifters and gravediggers, but also supernatural private detectives and — perhaps most terrifying of all — beautiful creatures that prey on… horror writers.   Murder, death — and things worse than death — are all waiting for you When The Night Comes Down.
Our newest title features more of the great stories that are a hallmark of Dark Arts Books' selections.
Joseph D'Lacey, in stories like "The Unwrapping of Alastair Perry," writes in the vein of the Clive Barker of the 1980s.
Bev Vincent, already renowned for his non-fiction, shows off some impressive range in his fiction — from hard-edged horror ("Silvery Moon") to Bradbury-esque whimsical ("Something in Store") to knowing humor ("Knock 'em Dead").
Legend Robert E. Weinberg delivers perhaps the all-time greatest behind-the-scenes send-up of genre convention weekends with "Elevator Girls." And rising young gun
Nate Kenyon, in gritty stories like "Gravedigger" and "The Buzz of A Thousand Wings," showcases why he has earned all those raves.
Dark Arts Books is really proud of this collection and think you will enjoy all the great stories within! Click here to order.
Nominated for a Black Quill Award for Best Dark Genre anthology.
---
TABLE OF CONTENTS:
Joseph D'Lacey

The Unwrapping of Alastair Perry
Etoile's Tree
Introscopy
Morag's Fungus
The Quiet Ones

Bev Vincent

Silvery Moon
Knock 'Em Dead
Something In Store
Purgatory Noir

Robert E. Weinberg

Elevator Girls
The One Answer That Really Matters
Maze

Nate Kenyon

Breeding The Demons
Gravedigger
One With The Music
The Buzz of a Thousand Wings
---
Reviews
Sixth in the Dark Arts Books anthology series, When the Night Comes Down allows readers to take a peek into the writing styles of four talented authors: Joseph D'Lacey; Bev Vincent; Robert E. Weinberg; and Nate Kenyon. Within the collected stories, any horror reader should find at least one they truly enjoy, and many will find several. I had at least one favorite by each of the included authors. Joseph D'Lacey's "The Unwrapping of Alastair Perry" details a time in Alastair's life during which he peels off the layers of his skin in order to morph into other lifeforms and experience things that these other beings (whether a person of the opposite sex, reptilian creature, etc…) would experience. In "Knock 'Em Dead", Bev Vincent takes readers into the life of an author that feels his booksignings must be cursed, as, at each one, someone ends up dying. Another great Vincent story in this collection is "Something In Store", where a bookstore manages to "come to life" as it expands due to the owners' desires. Robert E. Weinberg's "Elevator Girls" makes convention attendees think twice about entering an elevator with an attractive looking girl, as his "elevator girls" have a bit more going for them beyond good looks and seductive appeal. Nate Kenyon puts a new twist on the tiresome zombie stories in "Gravedigger". A couple of young guys have found that dead bodies are a good way to smuggle drugs; however, they hadn't expected that the drugs might have some ill-wanted effects on the corpses they had used. These are just a handful of the great stories that I enjoyed in When the Night Comes Down,and based on what kinds of subgenres readers enjoy, many will have differing favorites. This collection, along with all of the Dark Arts Books anthologies, is a great way for readers to discover new voices in the horror industry. Many anthologies only allow readers to get a glimpse of an author, with only one story by each author, or are collected works of a particular author. Unlike these anthologies, each author gets his own section to showcase several offerings. What John Everson and Bill Breedlove have created with this publishing company is a much different approach, giving each author an opportunity to shine as they introduce readers to their various writing styles through the inclusion of multiple stories. I would recommend this collection as well as any of the other books in Dark Arts' line of books to all horror fans and feel they would make a great addition to all libraries.
Famous Monsters of Filmland review:
When The Night Comes Down is Dark Arts Books sixth offering. They do their anthologies a little differently by including only four authors and allowing each author multiple tales that aren't tied down to one general theme. I really like this idea – it gives you a chance to read a broad range of each author's fiction. I will most definitely be diving into Dark Arts' back catalog for some more fantastic short fiction.
This is an exceptional anthology that anyone who loves short horror fiction will enjoy.  The talents are varied as are the selection of stories.
As with all anthologies I read there are always a few stories that stand out to me and this is no exception. My favorites are "The Quiet Ones" by Joseph D'Lacey, "Purgatory Noir" by Bev Vincent, "Elevator Girls" by Robert E. Weinberg and "Breeding The Demons" and "Gravedigger" by Nate Kenyon.
This is a good time to be a fan of short horror fiction, anthologies seem to be making a bit of a revival as quite of few are sitting in my to be read pile. Dark Arts Books newest is a wonderful gathering of talent and material that will keep you turning the pages well into the wee hours of the night.
Do yourself a favor and head on over to their website and check out what they have to offer, you will not be disappointed.
After I slid Dark Arts Books sixth trade paperback collection out of a manila envelope and saw those four names all neatly stacked under the title, "When the Night Comes Down," and I peeked inside to find that ten of the sixteen titles were first publications, I sat down and began to read the first story almost immediately. I was anxious to see if these four authors had delivered like their past works promised they would.
British Author Joseph D'Lacey opens the collection with five tales that display his wide range of imagination and storytelling skill. In "The Unwrapping of Alastair Perry" he explores the notion that inside each unsatisfied man lurks a woman with desires, and an insect with needs. "Etoile's Tree," in both style and idea, reeks of Bradbury. And the stories "Introscopy" and "The Quiet Ones" both show the extremes to which he believes that a government can and will go to remain in control over its people when it feels threatened. My favorite part of these D'Lacey tales, other than the fact that no matter how bizarre they become he has an uncanny way of making them read like undeniable fact, is the dark undertones in many of them that left me thinking long after I'd finished reading.
Next Bev Vincent, renowned for his non-fiction guides to the works of Stephen King, tells four tales with a straightforward style that pulls readers immediately into his world. In two of his new stories, "Silvery Moon" and "Knock'em Dead," he takes the clichéd topics of werewolves and struggling writers, respectively, and adds a twist here and turn there that makes them new no matter how many similar stories you've read. "Something In Store" was my favorite of the four because it is everything I like in a short story wrapped into one: easy to read, whimsical, fantastical, dark, erotic, and just the perfect amount of vague. Vincent definitely knows how to keep you on edge, excited, eager, and wanting more.
For those of you who haven't read Robert. E. Weinberg, Google him and you'll find that you literally have years of reading to catch up on. I don't have the time or space to tell you even a fraction of his achievements so I'll get to these stories. In the only new tale, "The One Answer That Really Matters," Weinberg sends his most popular protagonist, Sid Taine (a psychic detective), on a search to answer a mythical question that every human should ask or has asked themselves at one time or another. I can't tell you what the question is, you'll have to read the story to find out. The two reprints, "Elevator Girl" (the first story I read of his and was glad to see in print again) and "Maze," both reminded me of his honed ability to deliver memorable characters using witty, engaging, real dialogue. If you're familiar with him and like his work, you won't be disappointed. If not, welcome to the club.
I had read three of Nate Kenyon's books but never his short stories until these four. In these he, as in his books, shows his ability to open up a reader's senses with his descriptions so that you really feel surrounded by the story rather than watching it from the outside. In "Gravedigger" he puts his own gritty spin on how to handle (or not handle) a zombie. "Breeding Demons" explores the dark heart of an artist and the possibilities and ramifications that can arise when that darkness is truly believed in and unleashed. "One With the Music" was my favorite of the four because with this one Kenyon showed his diversity by stepping away from the grotesque horror story and using a more subtle, quiet style that made my inner demon smile. Over all, and especially with his final tale about a distraught, deranged detective, "The Buzz of a Thousand Wings," reading Kenyon's short stuff was like riding a roller coaster that blasts off like a rocket and ends with a sudden jerk.
Dark Arts Books claims to celebrate both the power of the imagination and the endless variations of what truly constitutes a horror story with their titles, and this latest collection proves them true on both accounts. I highly encourage anyone who wants to travel into a diverse realm of darkness where you can be both pleasantly fascinated and disturbed on the same page to get your hands on a copy of this book.
Shroud magazine review:
Continuing its series of author samplers, Dark Arts Books notches another mark on its belt with its latest compilation, "When the Night Comes Down". Featuring some of the best tales to date by four outstanding writers, Dark Arts proves that when it comes to collections, contributor quality ranks far higher than quantity. Among the standouts are:
By Bev Vincent, "Something in Store" and "Purgatory Noir"; the former about a charmed bookstore that offers its new owner pleasures – and perhaps terrors – beyond imagining, the latter about a private detective on a new case that's going to be Hell…literally.
"The One Answer That Really Matters", by Robert Weinberg, featuring his popular occult detective Sid Taine on a quest to fulfill a convicted serial killer's last request: discover exactly which plane all of humankind really exists on…heaven, or hell?
In "Breeding Demons" and "The Buzz of a Thousand Wings"; Nate Kenyon shows a much sharper and brutal edge than usual, and his cuts are masterful. The first tale is about a struggling artist who learns – almost too late – about the horrible kinship between Creator and the created, as he struggles to reconcile his dark art with the woman he pursues; the second about a haunted cop verging upon a mind-shattering secret lurking in the city's sewers…and in his own heart.
Finally, offering perhaps his best work to date is Joseph D'Lacey with fine very fine tales. First is "The Unwrapping of Alistair Perry", in which a speed-dating bachelor undergoes a startling gender transformation, only to discover his true self hiding beneath his new face. "Etoile's Tree" is a touching – yet melancholic – story about a young boy's courage, an old man's enduring kindness, and the inheritance of strange magic, and "Morag's Fungus" is a darkly humorous tale that reads like a contemporary spin of the Brothers Grimm, about a woman suffering from terminal disease and the salvation she finds in myth and story. Finally is "Introscopy", a cautionary tale warning of a dangerous future in which mankind presumes to know the key to the human soul and uses it to separate the "righteous" from the "wicked".
Stories from four very talented fellows are gathered in When the Night Comes Down: Sixteen Tales of Darkness Descending. Each author has a stand out story, and, overall, the quality is high. Editor Bill Breedlove enlisted fine contributors: Joseph D'Lacey, Bev Vincent, Robert E. Weinberg, and Nate Kenyon. Their voices are diverse, diabolical, and delightful. There are chills and chortles; and some cultural commentary that is screamingly scathing.
For snarky social comment, it's hard to beat Robert E. Weinberg's reprint tale, "Elevator Girls." Originally published in the 1996 World Fantasy Convention Program Book, this look at unconventional convention groupies still possesses bite and sting. There is referencing of certain (thinly disguised) notable figures in the realm of horror fiction, which is giggly fun; but Weinberg goes for a dry acerbic tone. Jaundiced pragmatism pervades the yarn: "An editor can only print so many stories in a book. Time and economics dictate that he invites only a small number of authors to contribute. Business sense tells him to select the ones who he feels will do the best job and deliver their work on time. Being human, he tries to include those writers he knows and likes."
With a similar healthy dose of wry perspective, Bev Vincent looks at the world of writing. In "Knock 'Em Dead," he examines extreme techniques involved in the marketing of a novel. He pokes fun at the excesses of success, and how far people will go to maintain it. When random attendees of an author's readings die of natural causes, a mystique is created. The writer's popularity subsequently skyrockets. As the publicity machine cranks up, commercial considerations are inevitable: Including survivor t-shirts for his devoted followers; they all want to show they lived through a reading/signing. When the quantity of deceased decreases, creativity is required to address his plummeting prominence. Vincent delivers a jolly good time with the macabre mayhem.
The phrase "reinventing oneself" takes a peculiar turn in Joseph D'Lacey's "The Unwrapping of Alastair Perry." This tale of metamorphosis is highly unsettling. A man shaves away at his skin, stripping himself to the bone. He reveals a woman underneath the surface. Experiencing that gender does not bring joy; but leads to rather bizarre artistic endeavors. Like a perverted Pygmalion, the protagonist self sculpts; using a razor as the implement of expression. This is a challenging narrative; a profoundly disturbing piece about mutilation and mutation.
Now, on to channeling art to meet specific demented demands: In Nate Kenyon's "Breeding the Demons," an artist is commissioned by demons to make sculptures assembled of dead bodies, and then photograph them as: "Pornography for the supernatural." An unsparing unease permeates Kenyon's work: "Candlelight flickered upon the backs of the dead. Black thread like veins lay everywhere, up one seam and down another. Toothless mouths turned to wombs, gave birth to things unmentionable. Limbs reached up and clawed the sky in agony."
The savvy writers featured in When the Night Comes Down are skillful tellers of tales. Arch, wise and warped, this collection has much to offer: A savory supernatural sampling of choice works.
Joseph D'Lacey, Bev Vincent, Robert E. Weinberg and Nate Kenyon deliver these 'Sixteen Tales of Darkness Descending' in Dark Arts Book's latest 4-person anthology. As with most collections, the stories are hit or miss, although this time they're mostly hit.
D'Lacey's opening story, 'The Unwrapping of Alastair Perry' sets the bar quite high for things to come, and ended up being one of my favorites of the book. I've been reading D'Lacey's stories for a while now in various UK magazines, and his five offerings here are quite impressive, especially 'The Quiet Ones,' a horror tale as spooky as it is thought-provoking.
After a decent werewolf story, Bev Vincent brings the goods with 'Knock 'Em Dead' (an eerie look at an author's book signings) and 'Something in Store' (my fave of his lot, dealing with a supernatural bookstore). I read so much of Vincent's non-fiction that I forgot how good his fiction is. This is a fine primer if you haven't had the pleasure.
Robert E. Weinberg's 'Elevator Girls' tells the story of Brian Cassidy, a horror writer who first encounters one of the title characters at a fantasy convention, then shortly after meeting one of his writing idols, becomes one of the biggest authors in the genre. This turned out to be my favorite of this anthology, being filled with rich subtext and symbolism. Weinberg's second tale, 'The One Answer that Really Matters' is a great build up that (sadly) goes nowhere, and his brief 'Maze'–while well done–seems like it was ripped from something of a more epic proportion. 'Elevator Girls' more than makes up for both of them.
While he's been getting a lot of critical acclaim the past few years, this was the first time I've read anything from Nate Kenyon, and it's easy to see what all the fuss is about. 'Breeding the Demons' is a nifty old-school horror story complete with one killer monster, while 'Gravedigger' will make you want to stay away from cocaine (and zombies!) even more than you (hopefully) do now; fans of the extreme stuff will surely dig this one. His second two stories (one about a violin with a life of its own and the other a gruesome detective/creature yarn) are both satisfying reads that bring the old EC comics to mind.
With their 6th anthology, Dark Arts Books continues to be a fine place to discover new talent and enjoy some veterans. WHEN THE NIGHT COMES DOWN, despite a couple of so-so entries, doesn't disappoint.
When the Night Comes Down is a sampler pack of if-you-haven't-heard-of-them-you-will authors working in the horror genre. The formula, which Dark Arts also followed for each of its five previous releases, is simple: Recruit four authors and ask for their best, with no unifying theme or restrictions. The result, in this case, is a successful grab bag of sixteen dark tales.
Joseph D'Lacey kicks off the collection with "The Unwrapping of Alastair Perry," which was not only my favorite story of his, but of the entire book. It begins with a simple act of shaving, but quickly dissolves into a terrifying and bewildering transformation for the title character. Alastair Perry learns to adapt to his evolution into…something else, even as the reader is kept off-balance by the shifts in his life and in the story. That's the kind of feeling that readers seek in books like this, and each author manages to pull it off in their own way.
Bev Vincent, best known perhaps for his non-fiction work (The Illustrated Stephen King Companion, The Road to the Dark Tower) proves there's a whole different side to his talent with his representation here. Of particular note is "Knock 'Em Dead," the tale of an author who gets an unexpected boost in sales when patrons start dropping dead at his book signings. The story seems to have played its last note when Vincent drops in an interesting twist toward the end. "Something In Store" is another standout in the book, and a tale which many rabid readers can relate to — what would happen if you owned a bookstore, and whole rooms of priceless editions materialized there overnight? The tale starts out with an almost lighthearted "Isn't this cool?" sort of vibe, but Vincent brings on the dark in a hurry.
Like D'Lacey before him, Robert E. Weinberg scores right out of the gate with his first story, "Elevator Girls." He brings both the solitary struggles of writing and the convention culture to vivid life, and then tosses one of the horror genre's oldest and most venerable subjects into the mix with memorable results.
Nate Kenyon bats cleanup in this impressive lineup of talent, and he makes a vivid last impression with his quartet of stories. "Gravedigger" is a particularly strong effort, mixing the living dead with drug deals gone wrong in an action-packed, blood-soaked nightmare.
Like any anthology, there were some stories here that worked better for me than others. The great thing about the format Dark Arts has chosen is that it's so wide open — there's quiet horror right next to stories that would make a splatterpunk smile. The four authors represented here all have something unique to bring to the table, and their differing styles and sensibilities are expertly blended by editor Bill Breedlove. This is a true treat for readers ready to try something new, and is highly recommended.