October 6, 2011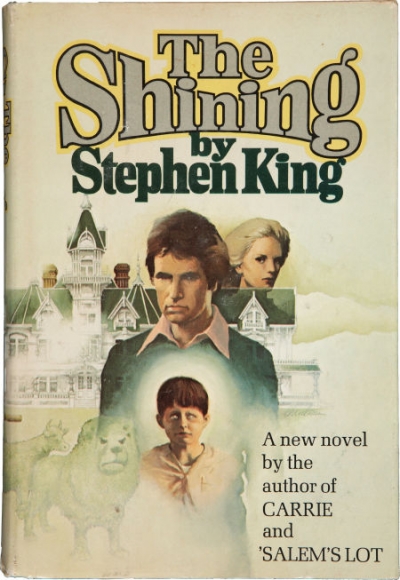 Whatever happened to Danny Torrance, the five-year-old boy with supernatural powers from Stephen King's third novel, The Shining? While promoting Full Dark, No Stars, King said, "I like the idea of characters coming back. I like the idea where there is a world out there where Danny Torrance and Charlie McGee [from Firestarter] could get married. They would have totally wonderful children. I like the idea of going back and visiting those people again. I guess they are connected." He concedes that Danny's experiences at the Overlook would have left him with a lifetime's worth of emotional scars, though.
What Danny made of those traumatic experiences, and with the psychic powers that saved him from his father at the Overlook Hotel, is a question that King believes might make "a damn fine sequel." Two years ago, while in Toronto promoting Under the Dome, he told director David Cronenberg about a novel he hoped to write that catches up with Danny thirty-five years later. He is living in upstate New York and working as an orderly at a hospice. He uses his powers to help the terminally ill make the journey to the other side. "Danny also has a sideline in betting on the horses, a trick he learned from his buddy Dick Halloran," King said.
Though he said he'd started working on the book, he told the audience that he wasn't completely committed to it. "Maybe," he said, "if I keep talking about it I won't have to write it."
That December, he offered the book as one of two for readers to vote on as the next one for him to write, along with The Wind Through the Keyhole. "Are you interested in reading either of these? If so, which one turns your dials more? Ms. Mod [a nickname for his personal assistant and message board moderator] will be counting your votes (and of course it all means nothing if the muse doesn't speak)," he wrote on his website.
Each book received nearly 6000 votes, with the sequel to The Shining winning by 49. However, it was the Dark Tower book to which he directed his attention next. That novel will be out next March.
As for The Shining sequel, he told Entertainment Weekly in 2009, "It's a great idea, and I just can't seem to get down to it. People shouldn't hold their breath. I know it would be cool, though. I want to write it just for the title, Dr. Sleep. I even told them [at the book signings], 'It will probably never happen.'"
As it turns out, the book is going to happen after all. He read a passage from Dr. Sleep while accepting the Mason Award for his "extraordinary contributions to bringing literature to a wide reading public" at George Mason University's 2011 Fall for the Book festival at the end of September (Full video of the event available here). The novel isn't finished yet ("I think, with a blessing, it will get done," King said) and a publication date has not yet been announced. However, one might speculate that Scribner moved The Wind Through the Keyhole forward a month from April to March 2012 to make room for Dr. Sleep next fall.
The excerpt he read deals with a group of itinerant creatures known as The Tribe. They travel the turnpikes of America in a caravan of RVs that blends in perfectly with all the other elderly people who have chosen to wander the highways for their retirement. King conjures up the image of sexagenarians in gaudy tourist apparel, mostly acquired at Wal-Mart, who monopolize the parking areas at rest stops with their convoy of oversized, bumper-sticker-covered Winnebagos and who form long, slow queues at fast food restaurants at full-service exits from the interstate, waffling over their orders. There used to be many of their kind, but now only one Tribe remains in the US. They have to keep on the move, because they are prone to changing their appearances overnight, jumping forward or back as much as 20 years at a time, which would attract unwanted attention. They own a few small towns outright but, for the most part, they travel.
One difference between them and the other golden-agers on the road is the fact that they never have dogs with them. They don't like dogs and, King writes, dogs don't like them. Dogs can see through their disguises to perceive the lean muscles, acute eyesight and sharp teeth beneath. The Tribe, you see, has been responsible for the disappearances of children across the country. Like the Low Men from Hearts in Atlantis and the Dark Tower series, they favor children with special powers. Instead of gathering them as Breakers for the Crimson King, though, The Tribe has other uses for them.
Before reading the excerpt, King said this about the book:
This is an idea that I've had for some time…I always wondered what happened to that kid, Danny Torrance, when he grew up…Where did he go after this terrible experience? Little by little this idea started to form…This kinda goes back to what's the worst thing that you can think of? It's funny how an idea like that worms into your mind and you start to look at perfectly ordinary things and they start to look sinister to you. I knew that there were bad people in this story that were like vampires, only that what they sucked out was not blood, but psychic energy from special people—like Danny Torrance. And I came to realize that these people were called The Tribe and that they move around a lot, and that their leader is this woman who calls herself Rose the Hat. They all have these kinda pirate names, because pirates are sort of what they are. And I thought, well, how did people like that get along? How do they move? And I realized. You go on the turnpike…the most sinister things on the turnpike and at rest areas are RVs. They're the RV people.
Though news of a sequel to The Shining spread rapidly across the internet, readers shouldn't expect a return to the Overlook Hotel or a reappearance of Jack Torrance. The word "sequel" is, perhaps, inappropriate. King is catching up with a character from one of his early books in much the same way that he picked up the story of Father Callahan from 'Salem's Lot in the final books in the Dark Tower series. In fact, their fates seem to be somewhat alike. Father Callahan ended up working in a homeless shelter and hunting—and being hunted by—vampires. Danny Torrance apparently ended up working in a hospice being hunted by—and possibly hunting—psychic vampires.
It remains to be seen whether his path will cross that of Charlie McGee.