January 24, 2012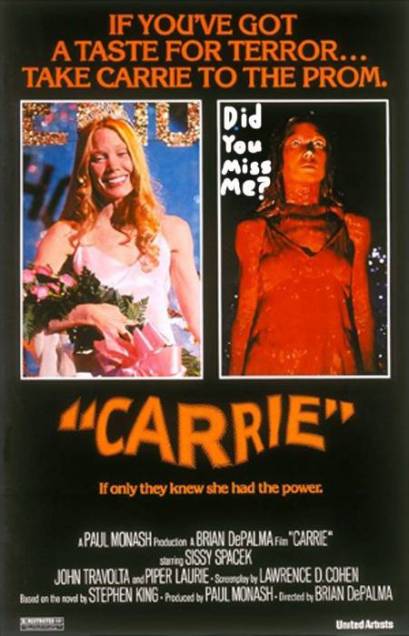 These days, it seems like just about every film adaptation of a Stephen King novel is slated for a remake. Kimberly Pierce, director of Stop-Loss and Boys Don't Cry, is reportedly in talks to remake Carrie from a script by Roberto Aguirre-Sacasa for MGM and Screen Gems. The script is supposedly "more faithful" to the novel than Brian De Palma's classic version, which came out 35 years ago. Yes, you read that right: 35 years ago. Hard to believe.
Producer Paul Monash purchased all film rights to Carrie from Doubleday after the book was published in 1974. He had problems placing the film until he talked with United Artists, who were eager to do something that would capitalize on the horror wave generated by The Exorcist and Rosemary's Baby.
De Palma's adaptation, scripted by Lawrence D. Cohen with a budget of under $2 million, was a huge hit in 1976, grossing $30 million domestically. Most of the pyrotechnics from the novel's grand finale had to be ditched for financial reasons, but the film was innovative with its split-screen shots during the prom. It is full of iconic images, including the famous blood scene and the oft duplicated but never replicated hand-from-the-grave gotcha at the end.
Piper Laurie, who at first thought the script was terrible and believed the film was a comedy, was nominated for an Academy Award for her portrayal of Carrie White's mother, Margaret. Sissy Spacek was also nominated.
King has said repeatedly over the years that he liked the De Palma adaptation quite a bit. He noted that its attitude was different from the book in that it was something of a satirical view of high school life in general and peer groups in particular. He wished he'd written the character of Billy Nolan (John Travolta) the way he was in the film: half funny and half crazy.
He and his wife saw the film in a cinema where everyone else in the audience was black. He dreaded their response to this pitiful white girl's plight, but they went along with it from start to finish, he recalls, and when Sue Snell dreams of visiting the cemetery at the end, one member of the audience yelled out, "That girl ain't ever going to be right," at which point King knew the film would be a success. Millions of copies of the movie tie-in paperback were sold and a whole new audience was introduced to his work.
A movie that ends with the main character dying doesn't seem ripe for a sequel, which probably explains why it took over 20 years for one to appear. The Rage: Carrie 2 came out in 1999 and featured Amy Irving from the original cast. Other than that, the only real touch-point to the novel or the film is a passing reference to the main character being Carrie's half-sister. It didn't do well at the box office and currently has a 16% approval rating at Rotten Tomatoes.
The first remake of Carrie was a three-hour TV movie starring Angela Bettis and Patricia Clarkson that aired on NBC in November 2002. It was intended as a lead-in for a TV series that never happened, possibly because it was generally panned in advanced reviews. It wasn't a terrible movie, but perhaps ill advised and suffering from too many cooks in the broth syndrome—a cross between King, De Palma and 90210. Its biggest problem was that it had huge boots to fill and anything short of spectacular was doomed to fail by comparison.
These aren't the only dramatizations of King's debut novel. In 1988, the Royal Shakespeare Company brought a musical based on Carrie to the Virginia Theater. Betty Buckley was elevated from her part as a teacher to Margaret White in this production, which has the dubious honor of closing faster than any other play in Broadway history, after 16 previews and five regular performances. It lost $8 million, the biggest Broadway disaster up to that point. The NY Times review from the era is as sound a drubbing as I've ever read. The failure is so famous that it's used in the title of a book: Not Since Carrie: 40 Years of Musical Flops.
In 2006, Theatre Couture launched Carrie: A Period Piece off-Broadway. It featured characters in drag and puppets, and was described as a black comedy with blood and high camp. King's lawyer's initial response to the request for rights for this adaptation was a rather terse "Are you out of your mind?" but King asked the lawyer to pursue the matter and the rights were granted. The NY Times was much kinder to this version, calling it "absurdist," "deliberately cheesy" and "playful to the end."
Failure is never enough to deter people. Last year it was announced that a "newly reworked and fully re-imagined vision" of the 1988 musical was being prepared for an off-Broadway run that begins performances at the end of the month and opens on March 1st. I find it amusing that the promotional material refers to the "legendary 1988 Broadway production" without going into detail as to why it's so memorable.
The proposed cinematic remake is still in the early stages of development. Many scripts have been written without a single frame ever being filmed. In an interview with Entertainment Weekly, King said: "Who knows if it will happen? The real question is why, when the original was so good? I mean, not Casablanca, or anything, but a really good horror-suspense film, much better than the book. Piper Laurie really got her teeth into the bad-mom thing. Although Lindsay Lohan as Carrie White… hmmm. It would certainly be fun to cast. I guess I could get behind it if they turned the project over to one of the Davids: Lynch or Cronenberg."
His suggestion of Lohan went viral and many people believe she is under serious consideration for the part. However, since there still isn't a confirmed director, file that one under "wild speculation" and carry on.