November 18, 2011 – December 1, 2011
On December 11th and 12th, A&E will air a four-hour miniseries based on Stephen King's 1998 novel, Bag of Bones. The movie is directed by Mick Garris, who is no stranger to adapting King's work. He previously directed Sleepwalkers (1992), The Stand (1994), The Shining (1997), "Chattery Teeth" in Quicksilver Highway (1997), Riding the Bullet (2004), and Desperation (2006).
Bag of Bones stars Pierce Brosnan in his first television appearance in over 15 years. Annabeth Gish and Melissa George co-star. I talked to Mick Garris about the project a few weeks ago while he was working on post-production. A few days before the miniseries airs, I plan to bring you my review of A&E's Bag of Bones.
Also, check out the Dark Score Stories website, a prequel to the miniseries, revealing the characters' backgrounds through photo essays with accompanying commentary tracks. Examine the pictures carefully: they are beautiful works of art, but they also contain a gazillion references to Stephen King's work. I challenge you to find them all! Every character in King's novels who has been a writer has a book on a shelf somewhere in these pictures.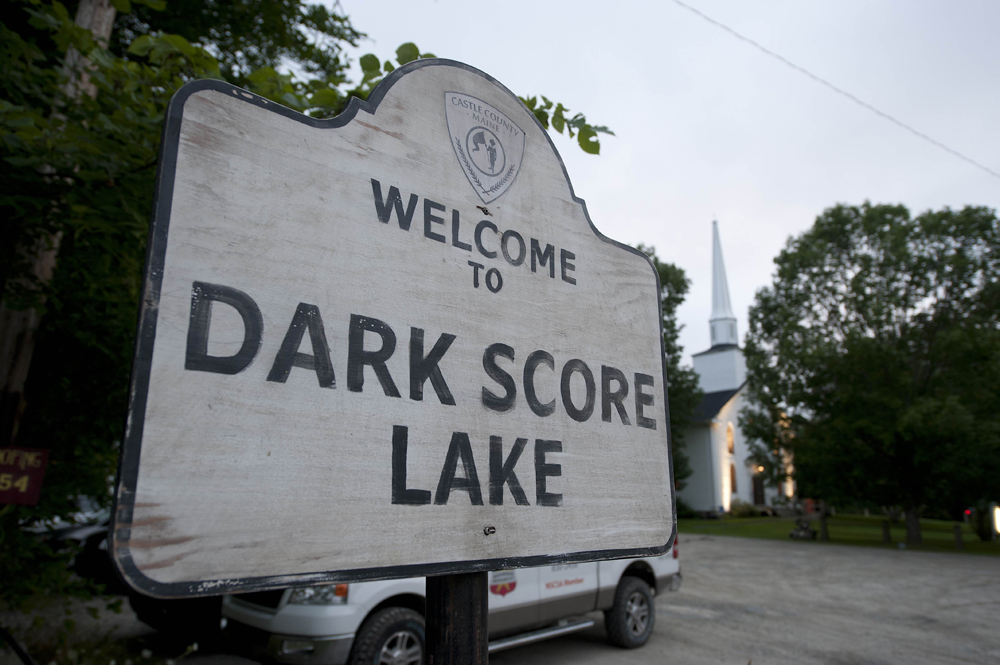 Before we get to the interview, a little bit about the book on which the miniseries is based. Though Bag of Bones, King's first novel with Scribner, has horror elements, the publisher played up its literary and romantic aspects. King said at the time that he wanted to write a Gothic novel about buried secrets that are slowly revealed, and that Bag of Bones contains everything he knows about marriage, lust and ghosts.
Mike Noonan is a mid-list novelist whose wife dies unexpectedly in the book's opening pages. In the aftermath, he discovers that she was keeping secrets. He also acquires a monumental case of writer's block. The simple act of launching Word makes him physically ill. Because he used to be prolific, he is able to keep his affliction secret from his agent and publisher. Whenever they need a new book, he gives them one of the extra manuscripts he has been stockpiling for years.
Eventually, though, the vault runs dry. When the time comes to sign a new—and lucrative—publishing contract, Mike escapes to his summer home on Dark Score Lake in western Maine. He has been dreaming of "Sara Laughs" for years, but has avoided going there since his wife died. After he returns to his personal Manderley (one of the novel's many literary allusions), his life is turned upside down. Something otherworldly in the cottage seems to be sending him messages, and he meets a much younger woman who sparks his romantic interest. He finds a new mission in life: helping Mattie Devore battle her malevolent, vastly wealthy father-in-law, Max Devore, for custody of her daughter, Kyra. He even starts to write again. But terrible secrets from the past push their way to the surface.
Bruce Willis optioned the novel in 2001. A screenwriter and director were named and a 2004 release was proposed. However, the adaptation never got off the ground. A couple of years later, Mick Garris acquired the rights, though the project went back and forth between being a feature film and a TV miniseries.
---
Bev Vincent: Did Bruce Willis ever do anything with the novel? Was there a script?
Mick Garris: There were two or three drafts of a script, none of which I had ever seen. I thought he was a great choice, whether it was as Mike [Noonan] or just as a producer and not necessarily that it was going to be him starring in it. But he would have been a really interesting choice for that. It's one of my favorite King books and something I really wanted to do, so fortunately it became available and Steve was agreeable to us putting it together and then the rest will be history in three weeks.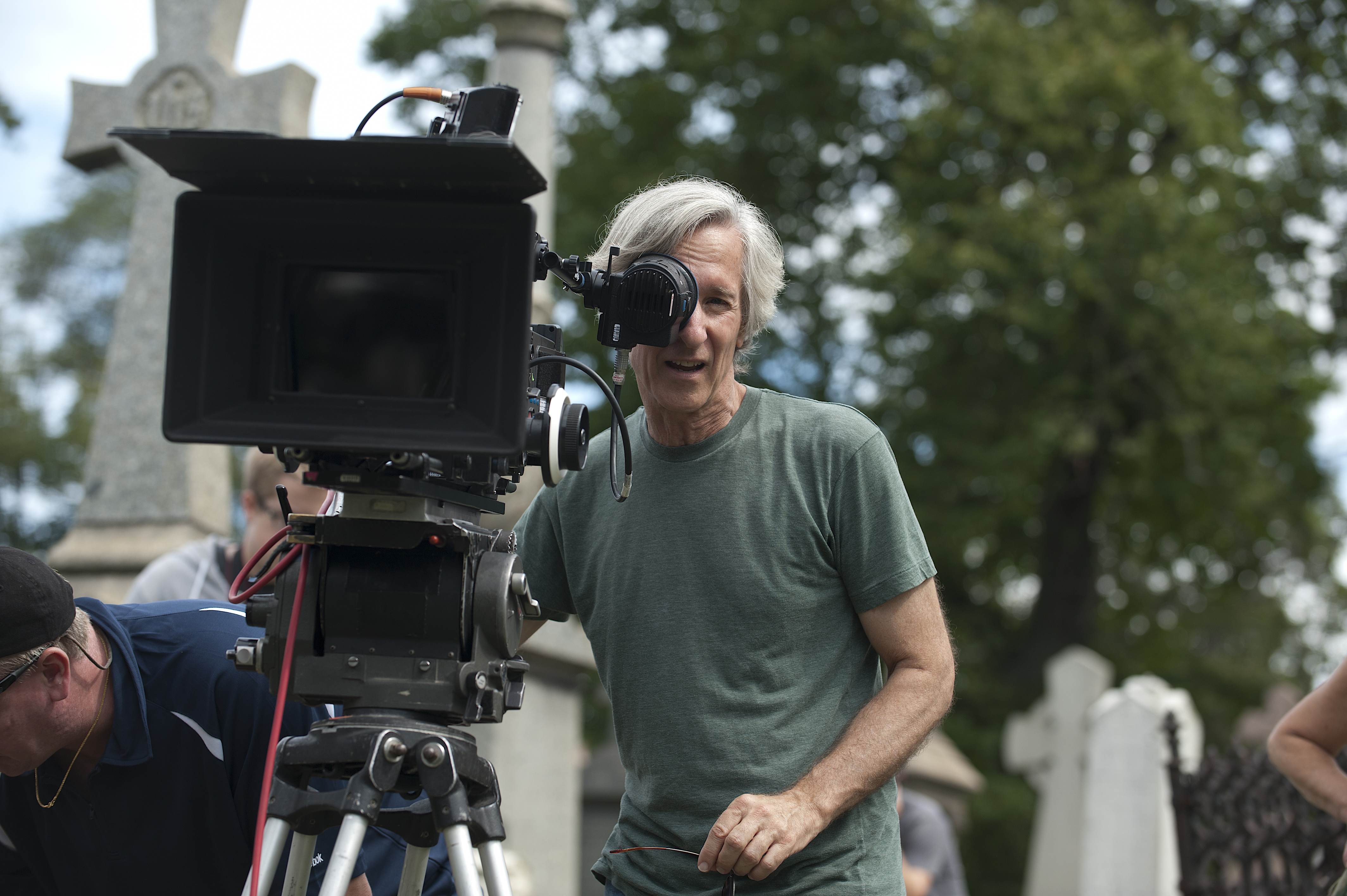 BV: You originally conceived this as a feature film and had scripts done for feature length.
MG:  We did. It's a very tough story to make cinematic, especially because it's a genre film. It's a tough sell to a studio as a genre film because it is so grown up. These days they think of genre films as films for teenagers and young people, and this is not Saw—it's not that kind of movie. It's something that's very passionate and grown up. Hopefully it will appeal to a young audience as well, and a wide audience, but it has a lot more depth and heart and passion than you get from your normal genre film, so it's not going to be a Screen Gems film.
Truthfully, the two-hour script really felt like we were missing stuff. It's a pretty dense book and even though the mystery behind the haunting is fairly complicated in the book, and it's been streamlined somewhat, there's still a lot to it and there are still things you have to lose. I actually like the miniseries script much more than the feature version because it is so personal and so human that it needs a little of that breathing time and storytelling and winding the clock before the hauntings get deep into it.
BV: Did you have to be more cautious in the way you framed certain things for television?
MG: I thought we would have some trouble but just last week [the network] saw the cut that we had completed and we didn't get any notes from Standards and Practices, which is pretty incredible. We have some pretty extensive effects. There are some fairly intense and even brutal scenes here and there, and there are definitely horrific moments, but when you're talking about cable, even commercial cable—basic cable with commercial advertising support—it's more liberal than ABC, and we went pretty far with The Stand and The Shining. The last hour of The Shining, I've always said, would probably have gotten an R rating if it came out theatrically. You have certain expectations when Stephen King's name is in the title. I've certainly had more than my share of television censorship, but that never proved to be an issue here, much to A&E's credit. I think they see that there's nothing gratuitous here, that it's all part of telling the story.
BV: Over the time that you've been developing this project, you scouted a lot of different locations.
MG: We went to Maine first and we actually met with the governor at the time—the former governor, I might add. The good one. They wanted this to maybe be their first film in an incentive program, a test film, but the state senate outvoted it at that point. Because of financial concerns, we had to go to places where states have incentivized the filmmaking process. Michigan has had a lot of luck shooting there. Louisiana. We needed some place that would work well for Maine.
BV: At one point you were set to film in Alaska.
MG: We actually went to Alaska in January. It was a beautiful place. We found a lake house and a lake. We could have made it work there, but it ended up not working out, which is all the better, really. Nova Scotia is so topographically like Maine that it does not feel like a compromise at all. We were in Halifax for about half of it and in various surroundings for the other half. If you have to go where there's a tax subsidy for filmmaking in Canada and you're shooting Maine, that's a good alternative. We did Vancouver for Maine for Riding the Bullet but this worked great. Nova Scotia is a pretty great place. Four months in any location is a long time and you can burn out on it. When we were prepping in June and July there were thirty-five days straight of rain. Other than that it was great.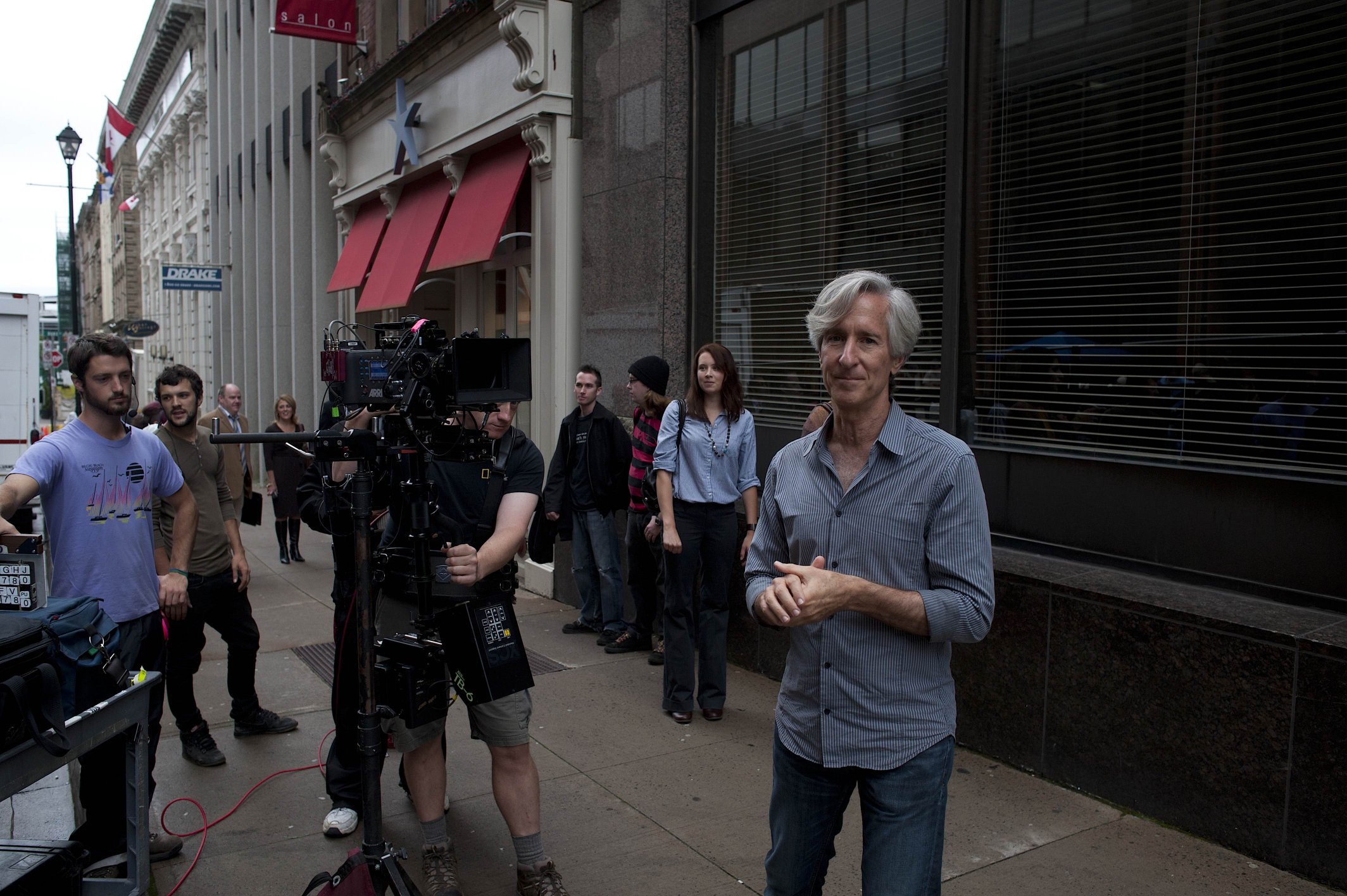 BV: Once you started filming, was the weather more cooperative?
MG: It was, but there are degrees of cooperation. Weather is definitely an issue if you're shooting in Nova Scotia and we had a lot of exterior work that we had to do. Some days we were amazingly lucky. For example, when we were shooting the Dark Score Lake Fair—in the movie it's 1939, it was earlier in the book—it would have killed us to have rain. Those were days we could not reschedule. We really lucked out there. There were other days . . . there's a certain bus crash that takes place in the movie that ended up being on a rainy day, which worked out great, the aftermath of that. It wasn't written to be in rain but it really plays well into the mood of it. It was a consideration almost every day.
BV: The insects can be a little bit daunting, too, I suppose.
MG: Oh, man! If only you'd warned me. We did a lot of exterior shooting and scenes in the woods where Sara Tidwell is attacked and there were mosquitoes like I'd never seen before. They looked like flying horses.
BV: There was a rumor that Stephen King appeared on the set and was doing a cameo.
MG: There was that rumor and there is absolutely no truth in it. It came from some Nova Scotia newspaper or website, I think it was, and who they had been seen was Pierce Brosnan and they knew he was working on a Stephen King project. You know, they're both tall, dark-haired fellows, easily mistaken for one another, right? (laughs) Steve was going to play Buddy Jellison if it worked into his schedule and then Cynthia my wife was going to play Audrey who worked in Buddy's café, but it didn't work out for either of them so that was disappointing, but then we got local actors who did a great job. Steve is great when he does that stuff. It's so much fun to have him around, but unfortunately it hasn't worked out.
Bev Vincent: When you started filming Bag of Bones this summer, did you know it was going to air so quickly?
Mick Garris: Yes. We actually did. It was part of the deal: Can you do this? After five years of trying to get it under way it suddenly got launched and it was damned the torpedoes and full speed ahead. We had all of our meetings with all the post-production people, the visual effects, the editors. For the first time in my life I worked with two editors. They were working simultaneously as we were shooting, but I don't think you'll know by watching.
BV: So it's not like one person is editing one night and the other person is editing the other.
MG: No, because you shoot out of order and whatever you shoot they are cutting right away. In fact, because of the nature of us shooting in Nova Scotia and the editing being done in Los Angeles, we would shoot and then the dailies would be sent by ISDN line to Los Angeles. They would cut scenes before I would see the dailies. I normally do very extensive notes on dailies—and I still do—into a recorder and then have them transcribed and e-mailed to the editors, but they'd already done it. I thought: this is superfluous.
BV: What were the special effects demands like on this production?
MG: Pretty extensive considering the kind of story it is. It's mostly about one man's emotional journey of loss. There were a lot of things we had to do that were difficult on the kind of schedule we have. My situation is almost always the same: I'm doing a genre film on a drama schedule. Hopefully it's a drama first and then it's the genre film. There are a lot of key visual effects. Sara and the tree sequences. There are hauntings. They're not all over the movie, but there are some pretty extensive things in it. It was also a group of people—the crew, I had never worked with any of them before and so that's a real gamble and a real test of faith and taste and mettle and all of that. It worked out really well and I think it's a wonderful production and hopefully people who weren't involved with it will think so, too.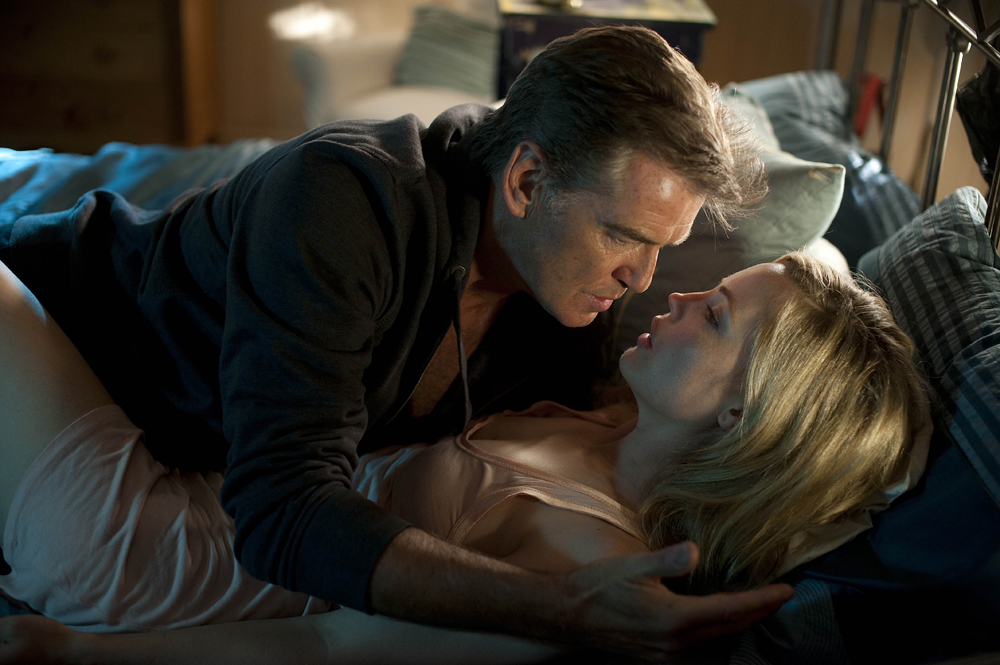 BV: How much of the effects did you do "live" on the set and how much of it will come in during post-production?
MG: All of the make-up effects were live. The tree is a post-production thing, although it happens in a lightning and rainstorm out in the woods, so all of those effects were live. And even some of the digital effects aren't really computer created—they're live pieces that were brought into it. But there is some 3D animation going on right now on the tree effects. I had worked with Jeff Okun on Sleepwalkers way back when and we've been friends ever since. He's a very high-end visual effects supervisor. He was our consultant on this and brought in Paul Bolger from CosFX and Paul was just fantastic. We got a lot of wonderful work that you could never hope to get in the kind of schedule that we've had. We were reassured by Paul and by Jeff that they could do it on this schedule and do it well. We just leapt off the diving board and it all has been working out great.
There are a lot of physical effects and the makeup effects that Adrien Morot did are really superb. Mainly the rush is because we started so late. The production period was fine but the prep was very, very short. The post-production is very, very short. Normally when a make-up effects guy has to do what we asked him to do, it's a couple of months of prep and he ended up having like a week of prep for some of these characters that weren't even cast until a week before they were going to play the part. It was very, very challenging and demanding and we're really happy with how it turned out.
BV: When you were scouting Alaska a couple of years ago, you told an interviewer that you had somebody in mind for the male lead. Did that change?
MG: It did change. For a while, Rob Lowe really wanted to do it. We'd worked together on The Stand and he's a huge Stephen King fan. We talked about various people. It's always a fine line between who the studio or network is interested in and what they see is most commercial, and being right for the movie. Rob was busy on some other work. We were talking about various other people and once Pierce Brosnan came up, it was like this is such a great idea but he hasn't done television in fifteen years. But then his agent was encouraging us to offer it to him. It ended up working out great. I think he's just fantastic in the part. It was my first time working with him and I'm a huge fan of The Matador, it's one of my favorite movies and performances in a movie ever. He's not really done genre film before—you know, Lawnmower Man wasn't really this genre, and not really a Stephen King movie, either.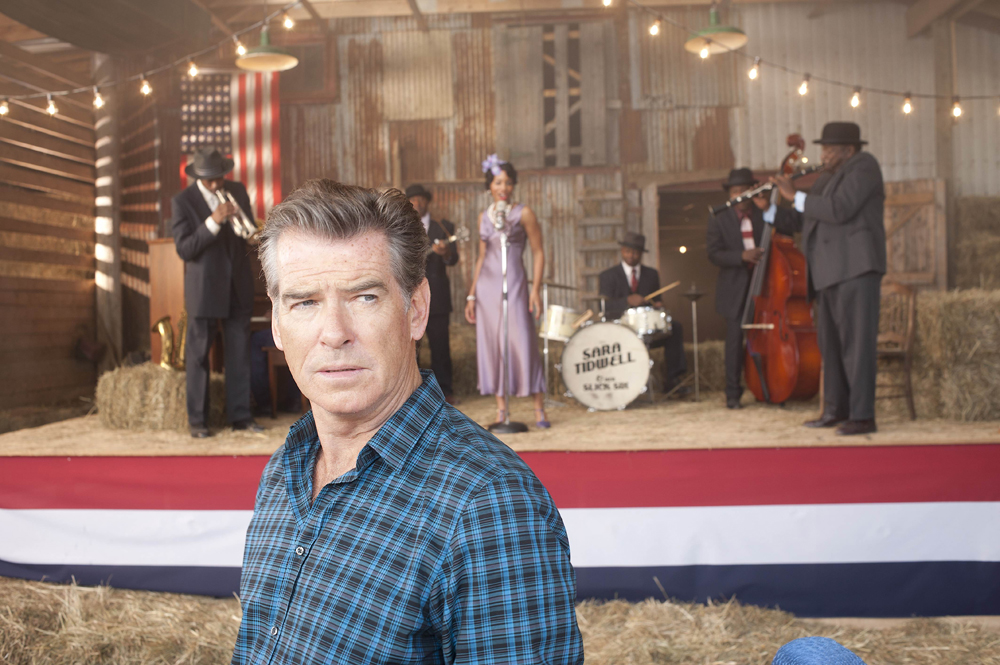 Once we were able to talk about it, he was intrigued about the idea of it. It's a very daunting role. He's in every scene in the movie virtually. I think there was one day that he didn't work out of the forty days that we shot. There's a lot of it where he's by himself so it's a real challenge. I think it's a rare actor who has ever done a movie like this where it's just him for long, long stretches of the movie. And because you shoot things out of order—there are three leading ladies in this and you don't shoot them in story order so it's like: here's a movie starring Pierce Brosnan and Melissa George, and then after that we're shooting a movie starring Pierce Brosnan and Annabeth Gish. And then here's a movie starring Pierce Brosnan and Anika Noni Rose. They were like distinctly different movies so that by the time we were shooting the last week and talking about what we'd done the first couple of days, it was like—was that this movie? It seems so far removed.
What I love about Pierce is that he's a guy who wants to take chances. He wants to try things. Working with him was just a fantastic experience, aside from just doing a movie-star movie. There's a reason he's a movie star. Often his characters, Bond and the like, they're very charming and intelligent and very well played, but in this he goes raw. The depth of his emotions and despair at times are quite remarkable and it's stuff that I had not seen that much of before in his work—and you can't find a bigger Pierce Brosnan fan than me. We had a wonderful time and doing some things that I'd never done before with a movie and how things were portrayed and things that I'd rarely seen him do. One of the secrets of being a great actor is fearlessness in tackling something like a tree that's attacking with its branches or seeing letters move on a refrigerator by themselves and still carrying with it the veracity of the human character he's playing. It's a remarkably performance and I hope it gets noticed.
BV: At the other end of the spectrum you've got Caitlin Carmichael who plays Kyra.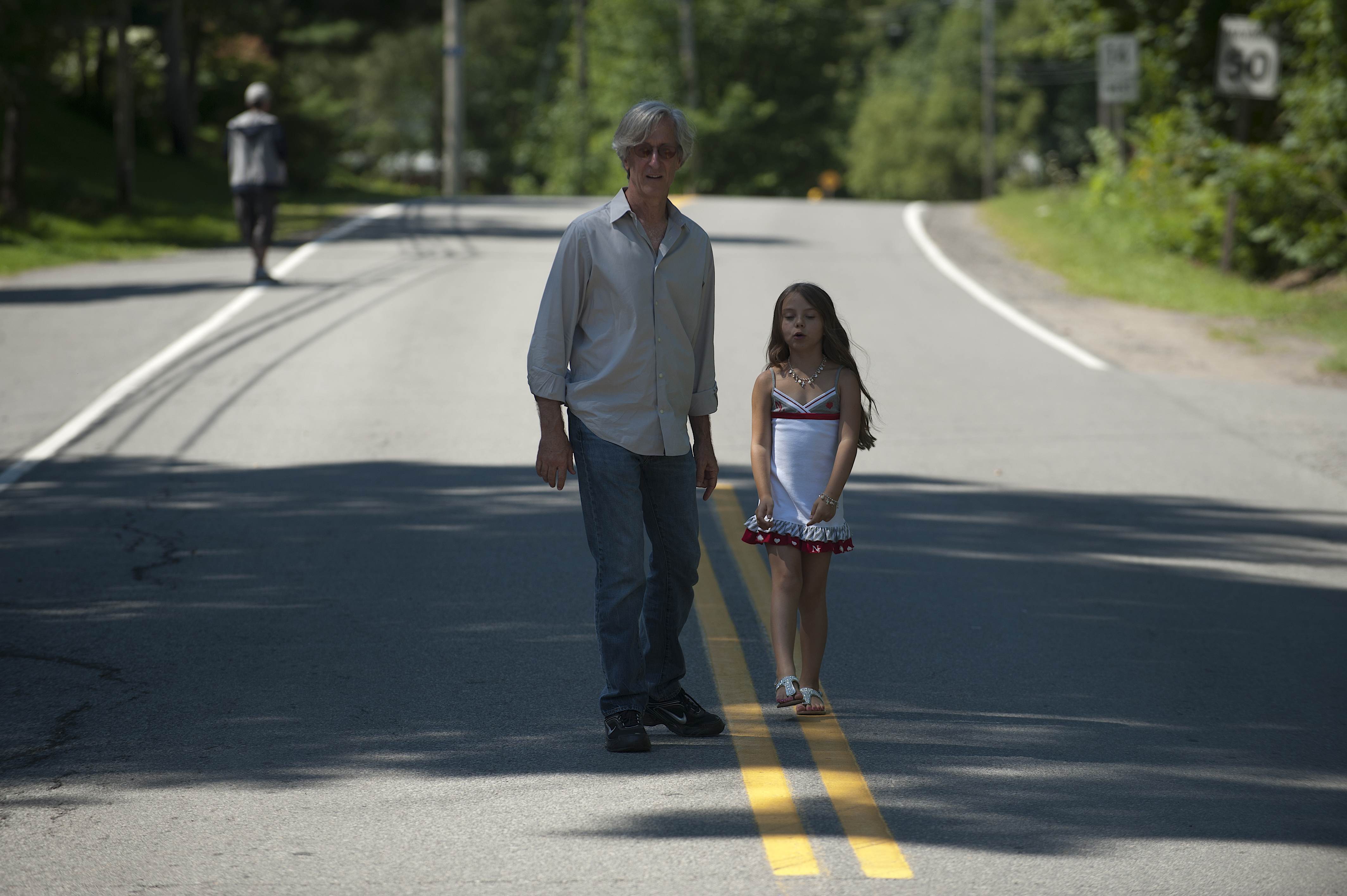 MG: She is amazing. She's a wonderful actress. She turned seven years old right before doing this. She is one of the brightest, canniest actors of any age and, again, she gets to some very, very emotional sequences here of—I'm sure most of your readers know the story—but, just what happens with her mother and lots of things that happen in this movie but she's capable of such depth and maturity and here she's just seven. Where did that come from? She's a major part of the movie.
BV: I was pleased to see William Schallert, too. There's a familiar, friendly old face in a not very friendly character.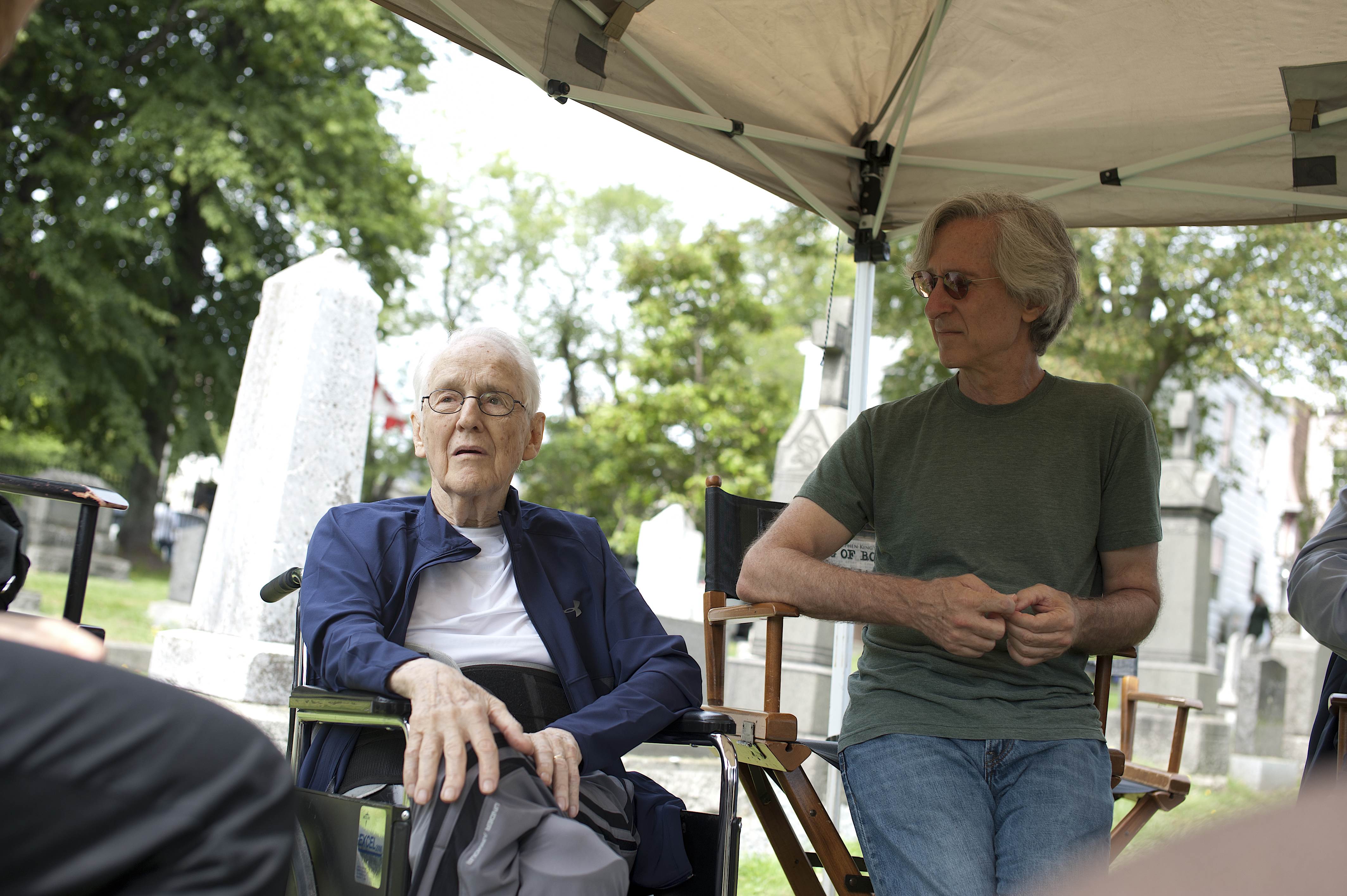 MG: Max Devore is not one of the most pleasant people to spend a day with. We have a lot of fun with him on that. Here's an actor who's 89 years old and it's a pretty demanding role. That was a great experience and I've known him from The Patty Duke Show and The Twilight Zone. I'm old enough to remember that from my childhood.
BV:  Did Jason Priestley just happen to be in the neighborhood?
MG: We wanted a cameo for that because even the small parts need to have some depth, a feeling that they lived before the role began and after the credits end. Jason does a show called Call Me Fitz that shoots in Nova Scotia and we thought he'd be great to play Mike's agent, Marty, and it was a great opportunity. He was close by and excited about doing it and we were all glad to have him. It was only one day but a lot of important stuff takes place during that day and a lot more dialog than I think he realized he was going to have in one day. He killed. He knew what to do and made the most of it. He really did a good job.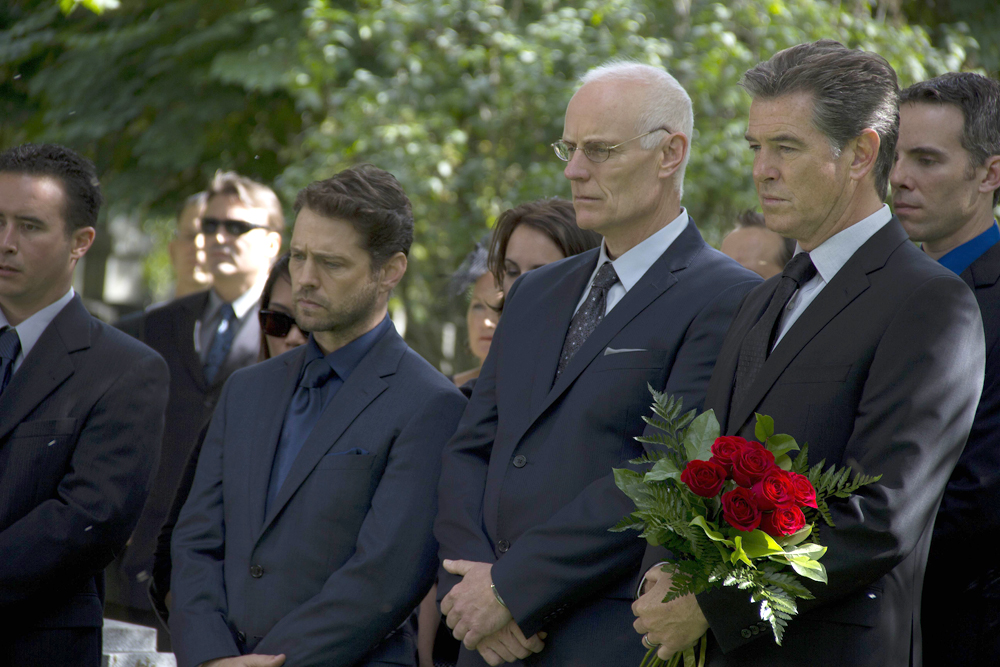 And, of course, Matt Frewer, this is my sixth movie I've done with Matt. He plays Mike's brother Sid. There's a scene between the two of them in a bar that Matt Venne, the writer who did the screenplay, said, when he saw the dailies, it was like watching a masters class in acting. Really great to see the two of them together. They seem genetically linked as brothers. He and I first worked together on The Stand. He was the first actor we ever read for any role in The Stand and he just blew us all away. King was in the meeting when he came in and read, and he did the scene where he first finally meets Randall Flagg, when he holds up the flame for him and says "my life for you" the first time and it was so filled with pathos. We saw that this isn't Max Headroom any more. This is a guy who's capable of incredible range. We've become really good friends. Any time I can get him on a set I'll kill to do it. He and Pierce got along great. Pierce was The Lawnmower Man and Matt was Lawnmower Man 2.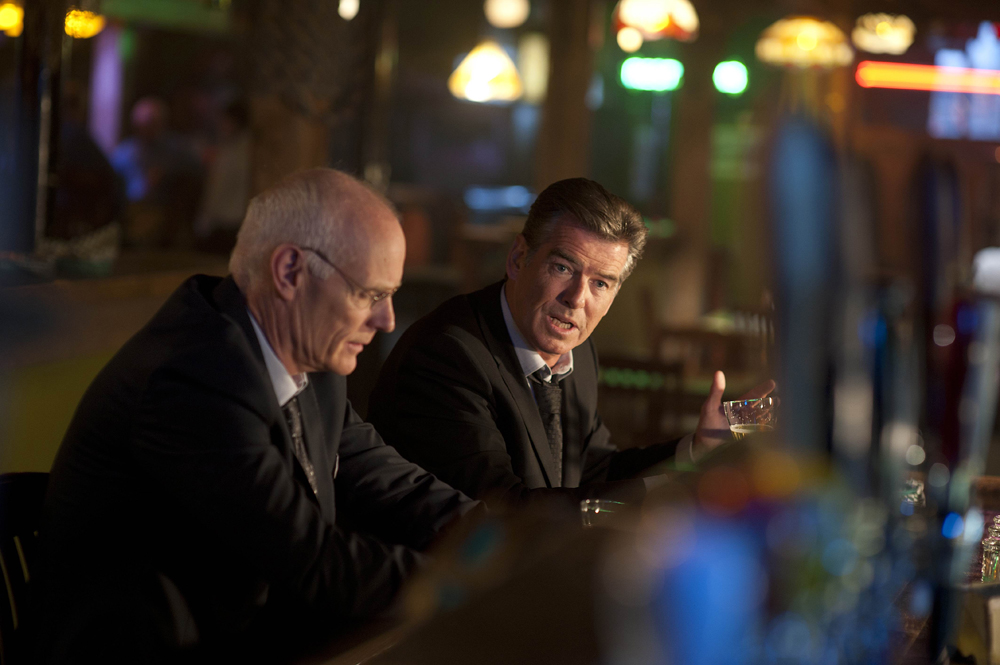 Bev Vincent: How difficult was it to find a place to interrupt the story so that people will want to come back the second night?
Mick Garris: There was definitely some decision making, but when you're telling a story and you know it's got to be split in half, there aren't a whole of choices available to you. You have to make it work and find a place. There was some talk just a week ago about finding a different spot to make the break and changing the lengths of the acts and things like that but we tried some things with the network involved and ended up going back to the way we had done it originally. It seems to be the most powerful place to come into night two.
Matt Venne, who did the script, did a terrific job on that. It's his favorite novel of all time, so he was the right guy. If it's not going to be Steve, then Matt would be the perfect choice, and was. There were a lot of discussions and because he was in on it from the beginning, I worked very closely with him developing it. Both of us have such a passion for the book but, like Steve King himself knows better than anybody, a book isn't a movie. Sometimes you have to make creative decisions, like splitting it up into two parts. I think it's probably the most effective place. It actually works well and feels very natural.
BV: At what point do you screen this for King?
MG: He has already seen a version of it. He saw a version of it, really my cut—they're all my cut because I'm involved all the way through—but the first one we did with the editors and no feedback from anybody. He was really enthusiastic. It's a huge relief for me—probably a bigger one for him. A huge relief to know that he liked it because he's a guy who will tell you the truth. He'll be tactful about it, but he'll tell you what he thinks. Luckily we've had a pretty good batting average together. I'm hopeful. You never know what anybody outside of the production will think—well, Steve wasn't involved in the process other than as a friend. He had a couple of approvals of cast and director, but as my friend I would send him drafts of the script and dailies so he knew a lot of the things that were coming. He didn't watch all of the dailies—that's a tedious process—but he was very enthusiastic. But you never know how anything is going to be perceived. There are so many filmmakers, their favorite work is the stuff that's been least appreciated or even reviled at times but we all feel really good about this.
BV: The Sara Tidwell component of the story is deeply rooted in her music. Did you use found music or did you have somebody writing music for those parts of the story?
MG: We used some classic songs, some great songs that were available, and Anika Noni Rose is not only a fantastic actress, she's a Tony-winning actress and singer on Broadway. She sings these songs so beautifully, and she's so good in this part. I did not know her work well before, and I sure will now because she was amazing. You'll never see Sara Tidwell in any other way after you see this movie. The same goes with all of the cast. Mike Noonan—maybe you have somebody different in mind that doesn't have an English accent and I think he's written to be in his early forties—forty-ish, I think—but Pierce so commands this part and so makes it his. And Anika, and Melissa George, and Annabeth Gish and Matt and Jason, all these people. This doesn't always happen, but every single one of them was terrific to work with. I know people say that stuff in interviews all the time, but you get divas now and then. There's rarely a cast that doesn't have at least one actor who is difficult. But this cast was remarkable in that they're all terrific people as well as terrific artists.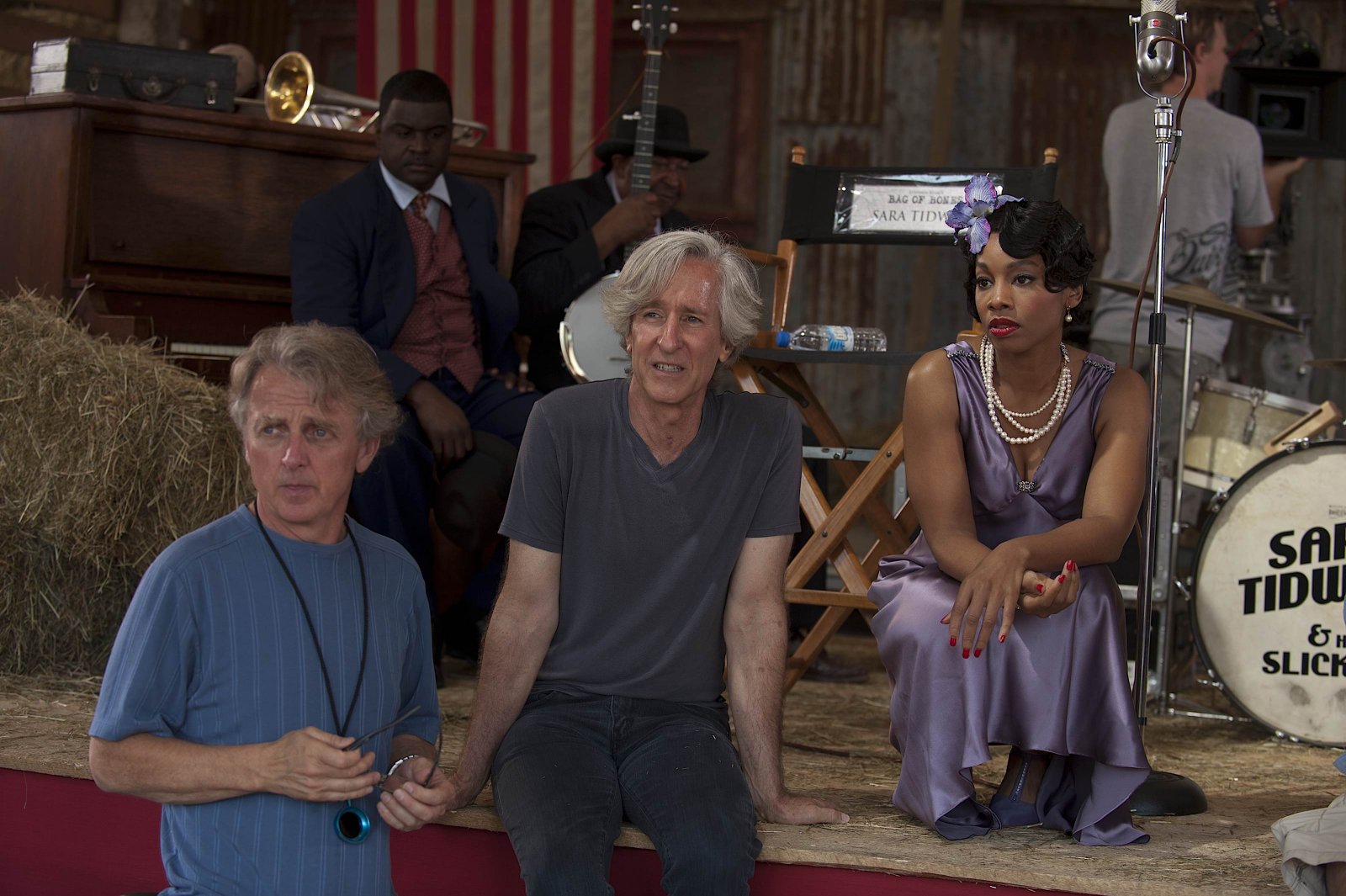 BV: What is your role as producer on Bag of Bones?
MG: I'm executive producer and director on this. Basically it was getting the material from Steve and developing the script with Matt, hiring the writer and even helping pay the writer, which wasn't supposed to happen. Just living with it. Mark Sennett, my producing partner, is the guy who made the business happen. He's the one who made the deal with A&E and got it all going forward. It was a lot of work that took close to five years to make happen, but it was a great experience being a real producer on it and not just being a credit. Taking all of that stuff in hand, with all the casting choices. It still goes on now. Choosing the songs that Sara did. We're doing another couple of songs so that we don't have to repeat a couple of them that we'll probably record next week, and it's going through all these piles of songs, and choosing them, and deciding what the instrumentation is, all of that is part of the executive producer job, as well as the director job.
BV: Is filming the most exciting part of the process, or do your find a lot of rewarding creativity from post-production as well?
MG: You know, it's all great. The pre-production and casting process is always great. That's when the decisions are made specifically of what's going to happen. But the shooting process and working with actors and working with cameras, working with the effects and all—making it happen, being open to what your environment offers you to make the best possible choices on how to emotionally convey something visually and aurally—that's exciting too. As a writer, I love writing, too, but you're really making the movie here.
The shooting process is by far the most taxing, but it's also the most exhilarating. A short day is twelve hours. We had some that were substantially more than that. It's a long day and exhausting because often, in addition to that shooting period, you've got an hour drive to a location, an hour drive home after we wrap. And then all the weekends are spent—for me—prepping and doing shot lists and figuring out what the next week is going to be. It's amazingly work intensive, especially when you have all the mechanics of a genre film on top of what we hope is a really emotional and passionate drama. The mechanics are complicated and time consuming. The camera work, setting up your shots if you're doing nights or locations or stages, and trying to get the most rich and communicative visual style, it's time consuming. That's probably the most gratifying.
In post-production, you reshape it. It's incredible how important music choices are and composing the score, and sound design and sound effects editing and all that. Post is nice because I go home to my bed, work a little more reasonable hours, although this has been weird working with two editors because of the time crunch, jumping back and forth between two cutting rooms. "Mick, I've got something here for you." Okay, let me see. "Hey, Mick, I've got something here for you." Back and forth. But it's really fun. Shaping something. You have all of this raw material from what you shoot and shaping it in post-production is a lot of fun and it's as creatively demanding as production is.
BV: I wanted to change subject for a moment and ask what you think about The Stand being remade.
MG: I don't know. I just read a few days ago that Warner Bros. wants Ben Affleck to direct. I think he's a great director. The movies he's directed, The Town and Gone Baby Gone, I loved that film. I loved The Town, too, but Gone Baby Gone even more so. I'm a huge fan of the Dennis Lehane book. I think he's an interesting choice. It's weird, though, because you do feel kind of fatherly about something that you made. It's such a huge story—more power to them. It would be interesting to see something where they didn't have to limit themselves to shooting 16mm film and doing everything on a budget. Even though it was elaborate for a miniseries at the time, you felt the squeeze of it. But to see a big screen version where you have all the money that it deserves to be made—it would be fascinating to see what it would be. We made that movie seventeen years ago. We actually shot it and made it in '93. I wasn't grey then.
I can't imagine how they'll do it as a movie, but it'll be interesting to see. Some of the best genre films were remakes. The Thing was fantastic and Cronenberg's The Fly was fantastic. It's not automatic that remakes suck—it's just axiomatic, and usually the truth. But there are times when it's valid. Just from production value qualities alone, I would love to see what they do with it. But it's a huge and sprawling story that I can't believe we got through way back then. I don't know what the plan is now. I don't know if that's the kind of movie that you want to wait months to see the next installment. It's one thing for a Lord of the Rings movie or a Harry Potter movie or something but I'm just not sure that [The Stand] works that way. But, you know, I'm not making it, somebody else is, so I'm fascinated.
BV: What do you hope the audience will come to Bag of Bones looking for and what will they take away from it?
MG: Hopefully you'll be touched by the emotional resonance. It's about loss and it's about mourning and it's about finding your life after this loss. It's something that people experience during the course of life that doesn't necessarily happen when they're in their formative years. In a way it's a theme that Riding the Bullet was all about, too. Dealing with loss and continuing to live a life and acknowledging that loss, making it a part of who you are and carrying it with you but not keeping you from continuing in the stage of evolution. I've never put it in words before, so that's kind of off the top of my head, but the stuff that we were always trying to go for was the emotional resonance of that. I think there's a universality in mourning the death of a loved one and that opens the door to imagination, too. That's what our genre is all about, playing tag with death.