AN ALL-NEW COMPREHENSIVE GUIDE TO ONE OF THE MOST BRILLIANTLY CONSTRUCTED WORLDS IN ALL OF FICTION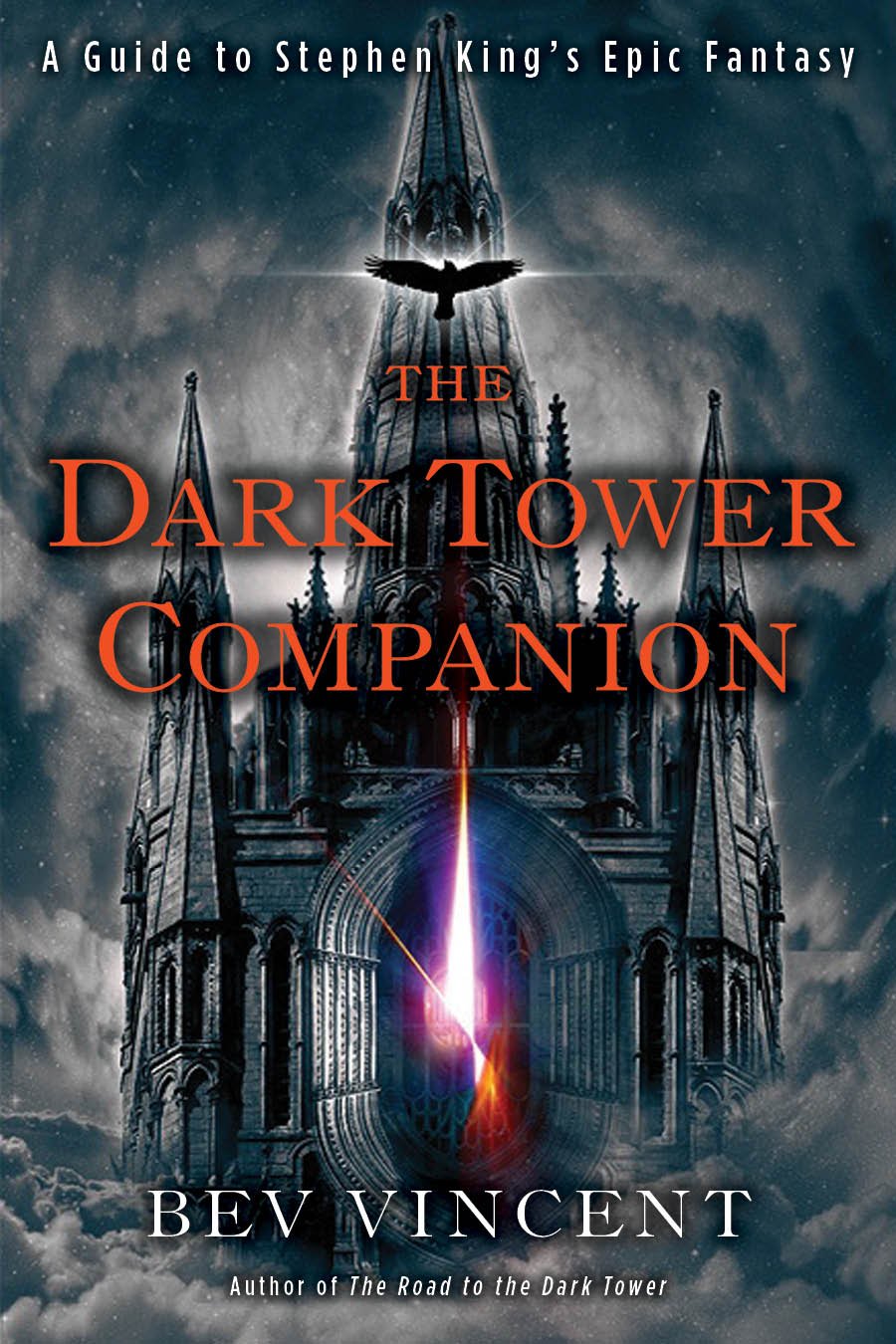 "Bev's book is a valuable tool for exploring the series. Both newcomers and frequent visitors to Mid-World will be informed and delighted." — Stephen King

"Bev Vincent … is so fluent in Mid-World, one gets the feeling he has gone through a doorway and visited. Really, you have the sense that he's been there." — David Squyres, Talk Stephen King

"…after reading a few pages of material, I was fired up and ready to dive headfirst back into the Dark Tower series again. So…make sure your reading schedule is clear – not only are you going to want to absorb every word of Vincent's book, you'll likely be stacking up those eight Dark Tower novels right behind it. – Blu Gilliand, October Country
Stephen King's bestselling multi-volume Dark Tower series is the author's most inspired and imaginative creation. The story of Roland Deschain of Gilead, the last gunslinger, and his lifelong quest to reach the tower and save humanity across infinite parallel worlds is one that has consumed King throughout his career as characters and concepts crossed back and forth between the series and the rest of his fictional universe. The mythos continues to be chronicled and expanded in graphic novels overseen by King, interactive adventures on his website, a proposed film adaptation, and in a new Dark Tower novel.
The Dark Tower Companion is the ultimate compendium to King's evolving magnum opus, presenting the mythology, history, and geography of this epic fantasy that has captivated generations of readers. Featuring interviews with Stephen King, Ron Howard, Dark Tower expert Robin Furth and others, Bev Vincent reveals The Dark Tower's influential literary origins, examines its connections to the vast majority of King's other novels, explores the expanded universe, catalogs the major characters, locations and concepts, and includes a travel guide to the story's real-world locations, giving fans who have followed Roland's journey—or those who are discovering it for the first time—a fascinating overview of the series and an inside look at the creative process of one of the world's most popular authors.
Publisher: NAL Trade (April 2, 2013)
Language: English
ISBN-10: 0451237994
ISBN-13: 978-0451237996
560 pages
Available at: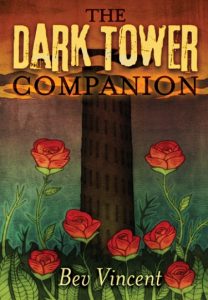 Interviews
Reviews
Bev Vincent, who previously offered The Road to the Dark Tower, goes about the task differently in his The Dark Tower Companion. In patient and well written chapters, he explains each novel and other King stories that have Dark Tower import. There are also a number of shorter chapters dealing with such things as Roland's enemies, locations in our own world (there is significant action between Roland's world and ours), the many graphic novels (written by Furth) the series has spawned, and even a section on Dark Tower art (which is probably a bit too obscure for many).

New readers and Dark Tower fans alike will benefit from this book. There is always something to learn about the Dark Tower universe. Even if you might not agree with Vincent's opinion, it's worth remembering he's had access to King in compiling both of his books. In fact, he includes a short and enlightening interview with King (now we know the name of Roland's sister!). Vincent has a strong commitment to opening Mid-World and its secrets to all readers, and this book proves he knows how to deliver.
The Dark Tower Companion has reinvigorated by love for this series … Vincent seems aware of readers questions, concerns and points of confusion with the Dark Tower series.  Without a hint of smug arrogance, he goes about answering things that have left readers scratching their heads.  His grasp is scholarly – his tone is conversational; like having lunch with your friend the theologian.

Vincent is able to speak with authority on the subject without talking down to the readers.  In fact, he is so fluent in Mid-World, one gets the feeling he has gone through a doorway and visited.  Really, you have the sense that he's been there.
— David Squyres, Talk Stephen King
[…] The Dark Tower Companion succeeds on all levels. Rarely before in his nonfiction has Vincent been so compulsively readable than in these rundowns of the Dark Tower stories.  He offers just enough information to whet new readers' interest in the books…but the sweep and excitement with which he recounts the novels is enough to re-absorb those who have already read them.

Vincent makes the book an interactive, growing experience: as with the Dark Tower books themselves, one starts out here a novice and becomes an expert, being thoroughly entertained the whole way through.

For readers who have never set a foot in Mid-World, The Dark Tower Companion is the perfect introduction.  For those who have trod every step of Roland's journey over and over again, this serves as both a refresher course and a fascinating, deeper look at one of the most inventive worlds of Stephen King's creation.
This is an an edition of all new material to update King's additions to the canon of Roland, The Gunslinger. Bev Vincent is the author of THE ROAD TO THE DARK TOWER which Stephen King called "Wonderful". This new edition includes everything up to THE WIND THROUGH THE KEYHOLE and the graphic novels from Marvel which may or may not be the last volume of the saga. King can't even say if there are any more stories tucked away before they pop out someday.

Each book has its own section and gives a brief synopsis of the book along with listing characters, places, things and crossovers from other titles. Following that is a listing of other books written by King that have ties to The Dark Tower Canon. There is also a listing of the artwork in each volume as well as information on the contributors of the Marvel comics.

There are also interviews with Robin Furth, Brian Stark, Ron Howard and Akiva Goldsman. The listings of places and people in our world and mid-world as well as how things change along the timelines help the reader to understand some of the happenings that may not be clear without re-reading the series as each new one comes along.

Vincent has done a terrific job in putting this together and it fills a need for each "Constant Reader". It demands a place on the shelf next to The Dark Tower Canon where it can be easily found when a question comes up.

Don't wait for the April 2, 2013 release date, reserve it at your local bookseller to make sure that it doesn't slip away.
— Barry R. Hunter, The Baryon Review
[…] Books like this are made to be perused, dipped into here and there when a question or confusion about something Dark Tower-related arises. However, Vincent's open, thoughtful approach to the writing makes it a book that you could easily read cover-to-cover. The material flows in a way that most guidebooks don't. Vincent's knowledge of the material is encyclopedic, but his writing style reads nothing like an encyclopedia. It's incredibly readable, packed with detail and information and insight, and completely approachable. Vincent set out to write something that would appeal to Dark Tower junkies and newbies alike, and in that he has succeeded handily.

Oh, and one more thing – after reading a few pages of material, I was fired up and ready to dive headfirst back into the Dark Tower series again. So, if you pick this book up, make sure your reading schedule is clear – not only are you going to want to absorb every word of Vincent's book, you'll likely be stacking up those eight Dark Tower novels right behind it.
— Blu Gilliand, October Country
Besides a personally guided tour by Stephen King himself, no one could do more a more insightful overview of The Dark Tower saga, and by extension the body of King's works, than Bev Vincent. Long acknowledged a master of King lore, Bev uses that acumen to succinctly tie everything together. Not only does the book include a handy reference guide to the major characters, places, themes and tie-ins, but in typical Vincent fashion, Bev raises interesting possibilities beyond the material itself. Some are conjecture. Others of an insight that only comes to those mastered in their subject. Bev Vincent proves himself a King Master with this book.
— Lou Sytsma
…you don't need to be a Dark Tower specialist to read and appreciate The Dark Tower Companion. This book is well structured, and it covers EVERYTHING that could be said & need to be said about THE DARK TOWER…Bev Vincent keeps proving, if it was needed, that he is a real Stephen King specialist, and shows with great attention the large scale of the saga that Stephen King wrote over 40 years and that is his magnum opus…If you want to go back to THE DARK TOWER. If you want to discover more about the saga, or you want to refresh your memory. If you want to find out more about the other side of the mirror of the extended universe of this work, or even if you want to broaden your vision of the adaptation that Ron Howard & Akiva Goldsman wants to do, then do not wait any more. You will simply not find a better book about THE DARK TOWER, than this DARK TOWER COMPANION… written by a recognized & great specialist.
This was the biggest, most collected info on The Dark Tower I've ever read! This is not just a well-written history and bio on the series, but you could really tell Bev wrote this from the heart and as a fan. Die hards will love this book and new fans will get a little more understanding on why The Dark Tower means so much to us. This was an enjoyable read and extremely informative. I highly recommend The Dark Tower companion.
–Tony Northrup, Through the Black Hole
Longtime fans and the passingly curious can enjoy this book…it was fun to discover things I missed when I read the series and getting insight into Stephen King's reasons for writing the series the way he did. If you have just read the first couple of books in the series then this companion will help refresh your memory, cause if you have read some of the books then you know how complex and crazy the Dark Tower world can be. If you haven't read any of the books then here is a chance to learn a little about the process of writing an epic fantasy that spans over thirty years of an author's life!
–Sharon Stogner, I Smell Sheep