April 21, 2012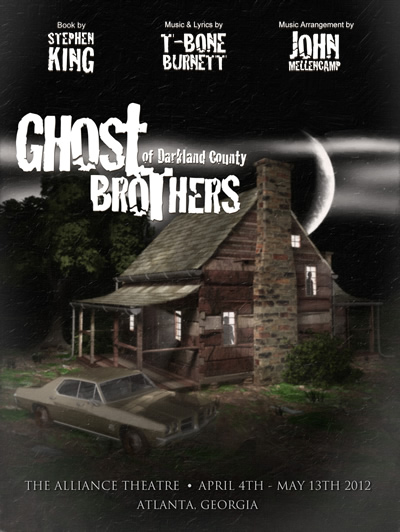 On Wednesday, April 11, a twelve-year collaboration between Stephen King and John Mellencamp came to fruition with the premiere of Ghost Brothers of Darkland County at the Alliance Theatre in Atlanta. King and Mellencamp were both in attendance, along with musical director, the legendary record producer T Bone Burnett.
I wrote about the as-yet unnamed musical in my first News from the Dead Zone column for Cemetery Dance in March 2001. Billboard reported at the time that King and Mellencamp were collaborating on a "macabre rock opera that will feature a haunted house and rapping ghosts."
While shopping for a lakeside cabin in Indiana in the early 1990s, Mellencamp heard about a murder that had taken place fifty years earlier. Two brothers got into a fight over a girl. The younger brother killed his older brother with a fireplace poker. When he and the girl tried to escape, they accidentally drove their car into the lake and drowned. Mellencamp was so fascinated by the tale that he decided to turn it into a musical ghost story. His original concept was about two brothers with a strong, mutual hatred who visit a cabin haunted by two uncles who had a similarly dysfunctional relationship. Seeking a collaborator to flesh out the story, he suggested King to his agent at CAA, who also happened to represent King.
King and Mellencamp met for the first time in Florida in 2000. Mellencamp marveled at King's ability to weave characters and subplots into a whole. King suggested adding booze and a roadhouse to the mix, taking what was essentially a short story idea and turning it into something Mellencamp described as a fully evolved tale of Americana with a Tennessee Williams feel. They relocated the setting to Louisiana because it seemed natural to turn the story into a Southern Gothic.
At that point, they could have gone in one of two directions. King's involvement could have ended after he created a simple treatment so Mellencamp could write songs that would tell the story, or they could write something in the vein of My Fair Lady, where the story is told via dialog, with the songs expanding on certain moments. Mellencamp favored the latter approach.
The backstory was advanced from the 1940s to 1967 and the setting moved from Louisiana to Mississippi. King wrote the narrative and inserted cues where he thought Mellencamp should create songs for certain characters. Once they were in place, King smoothed the transitions. The songs were in styles ranging from jazz to blues to bluegrass to country to zydeco, many of which Mellencamp said were out of character for him. After several years of working around their busy schedules, they ended up with a hundred pages of dialog and fifteen songs, which would have made for a five-hour production for a play with the working title Mississippi Ghost Brothers

The first run-through of the musical, which by then had its final title, took place in New York in March 2005 with the producers of Spamalot reportedly involved. King and Mellencamp both felt that the show was getting too much of a Broadway treatment there, which wasn't their vision for it. They didn't want a slick New York show with a forty-piece orchestra. They decided to aim for a format that would allow it to be produced in repertory, uncertain that they'd ever get it to a city as big as Atlanta, let alone Broadway.
Later that year, Mellencamp reported that he and King were looking for a director. The plan then was to workshop the play in someplace like Chicago to work out the kinks before taking it to Broadway. By 2008, they had selected the Alliance Theatre and an April 2009 opening date was announced. Liv Ullman entertained the possibility of directing. However, the launch was delayed because of "unanticipated scheduling problems."
T Bone Burnett became involved in 2009 when the play was recorded for a CD release. The all-star cast included Kris Kristofferson (Joe, the father), Rosanne Cash (Monique, the mother), Elvis Costello (The Shape), Neko Case (Anna) and Sheryl Crow (Jenna), with Will Daily and Dave Alvin performing as the sons. Boxing legend Joe Frazier played caretaker Dan Coker and King played Uncle Steve. The narrator was 24 star Glenn Morshower. The plan at the time was to issue a package that contained a book with the show's full text and song lyrics, a CD with the dialog and songs, and another disc with only the eighteen songs. At present, there is no word if or when this package will be released. The show has been reworked continuously in the interim, so the songs and dialog have changed significantly.
Susan V. Booth, the artistic director at the Alliance, came on board in 2011 as the director. King and Mellencamp have both proclaimed their admiration for the professionalism she brought to the production. King says she became the boss and was able to get both men to make changes. Things progressed rapidly after that. Previews started on April 4, 2012, during which the musical was tweaked even more, and Ghost Brothers of Darkland County premiered a week later to a sold-out audience.
How was the show? Check back in a couple of days for my review.