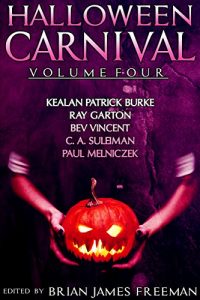 October is here at last, and with it the launch of the Cemetery Dance anthology Halloween Carnival, edited by my long-time pal Brian Freeman. The book is coming out digitally in five installments, with a new volume featuring stories from five different authors appearing each Tuesday in October. Volume One is out today. My new story "The Halloween Tree" appears in Volume Four, which will be out on October 24th, although you can, no doubt, pre-order it now, should you feel so inclined.
My review of the Netflix movie Gerald's Game went up at News from the Dead Zone online today.
I've submitted quite a few stories for publication in the past week or so. Here's hoping some of they stick! A couple of them are brand new stories, and a few are ones that I've had in the "waiting to find an appropriate market" queue for a while. One of them was written five years ago and was originally accepted for an anthology, but the book collapsed and I've had a hard time finding somewhere else to send it until now, when I found the perfect home for it. Fingers crossed.
I'm also working on a super-secret project that is very exciting, but I can't say a single word about it, so…well…I won't! But it is cool. Trust me on that.
We're into season six of Call the Midwife on Netflix. Last weekend we watched The Big Sick, which was based on a real-life experience by writer and star Kumail Nanjiani and also stars Elia Kazan's granddaughter, Zoe. He's a Pakistani stand-up comic who starts dating a white girl while his parents continually try to arrange a traditional marriage for him. When she figures out there's not much of a chance of a future for them, she breaks up with him but then gets terribly sick and he stays by her side throughout, while trying to navigate a complicated relationship with her parents (Holly Hunter and Ray Romano). The movie has astronomic scores on Rotten Tomatoes, but I thought it was just okay. The culture dynamics were interesting, but there were a lot of awkward pauses and scenes of people trying to be funny without it paying off. I would give it a B.
Then we watched the documentary Score, about the people who write scores for motion pictures. Among those featured: Hans Zimmer, John Williams, Bernard Hermann, Danny Elfman (geez, I had no idea he used to be part of Oingo Boingo!), Howard Shore, Quincy Jones, and many others. It starts with the use of the Wurlitzer organ for silent movies and runs up through people like Trent Reznor scoring Social Network. It does a very good job of showing how much the score contributes to our understanding and, indeed, our memory of movies, and gives us a peek at the creative side of the process. It's amazing that in many cases, the people in the orchestra never see the music before the moment they start to play together the first time. No rehearsals, just dive right in; they're real professionals. I liked this a lot, and I would have watched another hour or two of material if it were available.
Terribly sad to hear about Tom Petty. Damn the Torpedoes came out a month after I left home for university and experienced and explosion in the kind of music I was exposed to. Though I had an impressive record collection at that point, my range was fairly narrow. I had every Elton John album, but not a single Beatles album, and I'd never even heard of a lot of the musicians who are my current mainstays, even though they'd been active for years in 1979. "Refugee" was everywhere that first year, and Tom Petty has been a regular go-to guy over the ensuing years. I have all of his albums except the earliest, I think, as well as both Traveling Wilburys albums (some wag said you know a band is hard looking when Tom Petty is the "cute one"). I saw him once in concert, and I've also seen Runnin' Down a Dream, the 4-hour Petty documentary directed by Peter Bogdanovich. It's currently streaming on Netflix and I think it's time to take it out for a second spin.