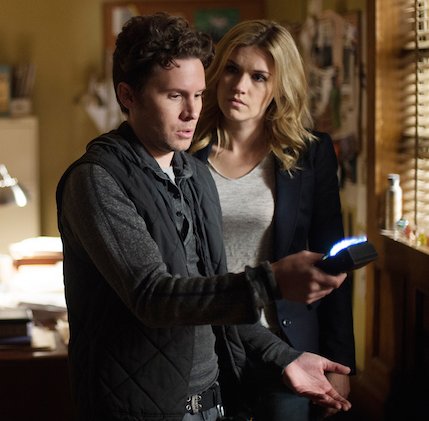 Back in June, when my daughter and I visited the set of Syfy's Haven, we got to meet a couple of guest stars for that episode but weren't allowed to say anything about them. Today, one of them has been named in an article: Kris Lemche, who was in the Season 4 episode "Shot in the Dark" as Seth Byrne, the host of the guerrilla program Darkside Seekers (i.e. Ghost Hunters), is back in an episode that will air on Halloween in the US.
Lemche is a really funny guy. We enjoyed watching him do his bit in the scene that was filming that afternoon. However, the unit publicist asked if I would sit for an EPK interview after lunch and warned me that Kris was going to "crash" the interview. And he did: he dropped in on me while the camera was rolling (we were set up in the morgue!) and sort of hijacked the interview for a while. He's fast and funny and smart, so I had to have my wits about me to keep up with him. I wasn't sure how well I did, but my daughter later said I was funny, too. I'm not sure if any of that footage will show up somewhere, but I hope it does. It's all sort of a blur, now.
I was pleased to meet the other guest star that day, albeit very briefly during a break between takes, but I can't say who it was yet. The actor is a regular on a popular TV series, though.
Last weekend we saw A Winter's Tale. The trailer and cast intrigued us, though we knew nothing about it. It's based on a Mark Helprin novel, adapted and directed by Akiva Goldsman, who I interviewed a while back for The Dark Tower Companion. It has Russell Crowe, Jennifer Connelly, Will Smith, William Hurt and Colin Farrell.  I've never been terribly impressed by Farrell, but he was quite good in this, which gives me more hope for S2 of True Detectives. The story is a fable/fairy tale with time travel and the devil and a winged horse. It has some cheesy moments, but we liked it well enough. Better than the 13% Rotten Tomatoes score might indicate.
I posted a brief review of Big Driver at News From the Dead Zone, which premieres on Lifetime tomorrow evening. Some of the reviews I've seen have been disparaging, but if you liked the novella I think you'll be pleased. It's a gritty and brutal revenge story and Maria Bello has a strong performance. Joan Jett, well, she tries hard.
I really liked Foxes' jazzy rendition of Queen's "Don't Stop Me Now" in last week's Doctor Who. The story wasn't bad, either, although Clara's turnabout at the end seemed unmotivated. I don't mind that she's sticking around, it just seemed abrupt. I liked the influence of Murder on the Orient Express, where everyone on the train was there for a reason, too, although the external shots of the train were a bit campy. Why wouldn't it go in a straight line in space?
Good finale to Intruders, leaving a door open for renewal. It's a strange story, but ultimately it mostly came together at the end. The little girl was the main star, in my opinion. She really sold it.
More bodies on Sons of Anarchy. SAMCRO is running out of places to bury them. I can't wait to see what happens with Juice and Gemma. Surely Juice will use what he knows to save his life.
I got a big kick out of what happened on Survivor this week. Dude decides to throw the immunity challenge without having a clue how to organize a coalition. Worse, he managed to mostly annoy people so he ended up being the one voted off. Perfect.
I'm watching Hinterland on Netflix as I work out in the morning. A Welsh cop drama, four 90-minute episodes. The usual setup of the new cop with a dark history being dropped into an existing department. Small town crimes that are generally rooted in the past. Lovely scenery, decent stories, and lots of Welsh. It was even filmed in Welsh at the same time the English version was made. When I'm finished, I'll probably go back to Hemlock Grove. I hear the second season is worthwhile.