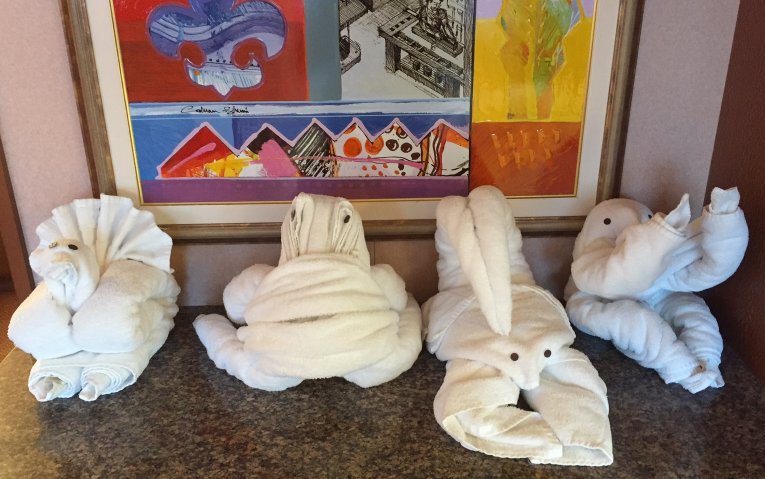 I got my semi-annual royalty check for When the Night Comes Down, the Dark Arts collection that contains four of my stories. I can now buy that pack of gum I've been saving up for! The book is available in both trade paperback and eBook if you ever want to sample a variety of my writings.
I also sold a new short story, which is always nice. I signed the contract but the book hasn't been announced, so I'll hold off announcing the details until later. I will say that the story involves a couple of characters who have appeared in other stories of mine.
My wife and I were off the grid on a four-day cruise over the long weekend to celebrate her birthday. People generally ask us where we went, but it doesn't really matter, because we didn't get off the ship! They used to have this thing called the cruise to nowhere, and that would suit us just fine. There was just one stop, in Cozumel, where we've spent time before, so we decided to avoid the throngs of tourists and enjoy the mostly empty ship. We even got in a round of minigolf on the upper deck! It was a very nice, relaxing four days indeed. We had some great meals, lots of wine, took in a couple of shows and read a bunch. The image above is the menagerie of towel animals that we ended up with in our stateroom by the end of the trip. A different one appeared each evening during the turn-down service.
After finishing The End of Everything by Megan Abbott, I read Burial by Neil Cross, the guy who created and writes Luther, a compelling crime novel about a guy who covers something up then gets involved with someone directly affected by what he covered up and then has the whole thing come crashing down around him a few years later. Gritty and tense.
Then I read Alex by Pierre Lemaitre, translated from the French. It's the second book in a trilogy, but it was the first to be translated into English of the three. It starts with a kidnapping, but by the end of the first section, you realize that the person who took the title character had understandable motivations and the victim is more than she seems. By the end of the second section, there's another reversal and you come to the conclusion that the victim-cum-villain had her own particularly understandable motives for what seems like a rash of random crimes. The book deftly plays with the readers sympathies. It has some quirky characters and a very tight plot. I went from there straight into Irene, the first book in the trilogy. Alas, I know the ultimate fate of the title character, but the story doesn't start with that situation, but with another set of gruesome murders. Good stuff.