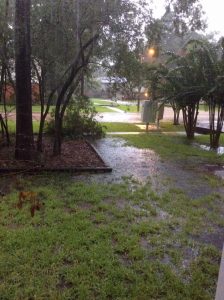 The rains have finally come to an end and we had our first glimpse of the sun as it was going down last night. I haven't seen a reliable total accumulation value for our area, but we seem to be in the approximately 20-25″ band.
The rains started through the night on Friday, mostly after midnight so technically Saturday, and those were probably the worst. When I got up, the water in the ditch out front (behind the mailbox in the picture) was nearly level with the edge of our lawn and flowing like a raging torrent. However, there were some gaps between the regular squalls, and every time the rain stopped for more then half an hour or so, the ditch drained considerably, and I never saw it that high again. Our biggest worry were the tornado warnings. During the first day or so, pop-up tornadoes did a lot of damage in very specific locations, but as the days went on, most warnings passed without any actual tornadoes occurring.
Still, the imagination plays strange tricks. We received another batch of heavy rains overnight on Saturday/Sunday, and there was a new flash flood or tornado alert every hour or so. I couldn't help dreaming that I'd wake up, put my foot down on the floor and find water there. Fortunately, that didn't happen. Didn't even come close. The yard got soggy (see photo), the back yard even moreso, but the water stayed out. Not even a drop spilled over the lip into our garage, which is the point where I figured water might get in if it did anywhere. If ever the time comes to sell this house, we have a great pitch: it's been through TS Allison, Hurricane Ike and Hurricane Harvey without flooding.
For the most part, we had the television on to various weather channels. We watched The Weather Channel on Friday, but it got repetitive. We watched KHOU until their station flooded and they had to evacuate. One valiant reporter in the field stayed on the air for a while and managed to facilitate the rescue of a transport driver whose truck was filling with water. We eventually settled in on KPRC, where we were very impressed with the coverage provided by Chief Meteorologist Frank Billingsley, who did an excellent job of explaining what was happening and why. (Aside: Billingsley has a book coming out in August, Swabbed & Found: An Adopted Man's DNA Journey to Discover his Family Tree, about his journey to track down his birth parents which sounds fascinating, too.)
Often, though, we found the news overwhelming, so we either switched off the sound and left closed-captioning on or watched a few episodes of Call the Midwife, which we've been enjoying. I also went to work every day this week: the office is only a couple of miles away and the roads were clear. We had a skeleton crew, and at times I was the only person on the second floor.
We had stocked up on supplies before the storm, and we never lost power or internet service, so there were no hardships involved. It was interesting to see what was gone from the grocery store: bread and milk were among the first to go. That and bottled water. And potatoes, for some reason. When I strolled through the store yesterday, just out of curiosity, there was very little by way of produce left, no fresh meat or dairy. The beer aisle had been plundered, although some of the higher-end beers were still available. The potato chip aisle was picked clean (although an early photo on social media showed a store where all the chips were gone except for the "Chicken and Waffles" flavor, which were still available in abundance).
On the social media side of things, Eric Berger provided some of the most solid weather reporting in the region. He's a former weather reporter with the Houston Chronicle who became the senior space editor at Ars Technica but established the Space City Weather blog as a hobby—a passion, really. Every day, sometimes several times a day, he updated the status and what was coming, even if it was dire news. He wrote this essay for Ars Technica to sum up the experience: it's well worth reading. This is probably the worst US flood storm ever, and I'll never be the same.  I am grateful for his straightforward reportage.
It's hard to predict when the city will be back to normal. We haven't had mail delivery since Saturday. Both airports are closed. (My wife was suppose to be on a flight on Monday night—rescheduled to later this weekend, but even that isn't guaranteed at this point.) There are places in the heart of Houston where the homes may be under water for a month. The major roads are starting to clear up, but there'll be debris and potential structural damage. What we experienced in our northern suburb was but a minor inconvenience compared to what many will have to deal with for weeks, months, maybe even longer.
I was touched, though, by the number of people who reached out to us during the past several days to see how we were doing. Not just friends and relatives, but people I only know as icons and screen names and twitter handles. Your concern was greatly appreciated and truly touching.
The Houston region has been through an ordeal, and will continue to suffer, but it has demonstrated in the past several days a resolve and a spirit that makes me glad that it has been my home for half my life. We like to make fun of "Mattress Mack," the skinny, aging furniture salesman who for decades has been making campy commercials in which he brandishes handfuls of money while yelling, "Gallery Furniture will…save…you…money!!" but he's the kind of guy who steps up in a crisis, opening his huge stores as shelters for regular people and first responders.
And it wasn't just greater Houston: many other communities and municipalities were hard-hit, too. The storm impacted a vast region in a way never before seen. Hopefully we'll never see the likes of it again.