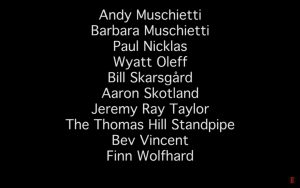 I started a new short story today, my first of 2018. I've been busy working on The Project That Cannot Be Named lately, and that has been consuming most of my writing time. But I've been cogitating over this new story for a while and I have most of it mapped out in my head, so I went to the bagel cafe this morning for breakfast and hand-wrote over nine pages in my Moleskine journal, which amounts to about 2000-2500 words, I guess. Over half the story, although I'm not quite sure how it's going to end yet. I have a pretty good idea, but there are some logistics I need to research first.
I also sold my first new short story of 2018, a tale called "Ray and the Martian." I'll announce more once the publisher gives the go-ahead. Swedish and British editions of Shining in the Dark have been announced as well. My story "Aeliana" is going to be well published this year!
I discovered that I am one of those offered Special Thanks at the end of an extra feature video on the Blu-Ray of It, which is pretty cool. There I am, crammed between the Thomas Hill Standpipe and Canadian actor Finn Wolfhard, who was also in Stranger Things.
I hear that Cemetery Dance #76 is showing up in mailboxes. I haven't received my copy yet, but I'm looking forward to it. I have four pieces in that issue.
When I heard the news about Dallas Mayr (aka Jack Ketchum), I gasped. For real. I was self-aware enough to hear myself making that sound. I don't know Dallas well, really, but I've known him for a long time and we've had some good times together. I know him from various Necons, of course, but my wife and I also sat with him at the Jekyll & Hyde Club in New York as part of a dinner organized by Stephen King's office before the Harry, Carrie and Garp event. Rich Chizmar and I met up with him before the National Book Award banquet at which King cited Dallas as someone people should be reading more. And at the World Horror Convention in Austin, where I served as Guest of Honor Liaison, I had the pleasure of driving Dallas around in search of a liquor store so he could stock up on scotch. That was a fun outing. I always enjoyed talking with him. He took a lot of crap from people at Necon, all with good humor. I will miss seeing him. Maybe some day the book of essays about his work for which I have contributed a piece will see the light of day. That would be nice.
I just finished watching a French series called La Mante (The Mantis) on Netflix. It's about a series of copycat murders many years after a crime spree committed by a young woman who killed reprehensible men. There's an element of Silence of the Lambs to it, in that the investigators go back to the original killer for advice in trying to catch the new murderer, but the big twist is that she's the mother of the guy in charge of the team, although only a couple of people know that. For the sake of the family's privacy, the perpetrator's name was changed and news reports declared that his mother had been killed in a plane crash, without connecting the two to each other. There are a few implausible moments and far too many people connected to the family show up as persons of interest, but it's not bad, and at six hours, quite binge-able. The creators have obviously seen a lot of movies based on Stephen King books. There are a couple of really overt homages, including the use of a particular camera angle that rips off Kubrick. The actress who plays the Mantis reminds me a lot of Charlotte Rampling. She is an ice queen…until she isn't.
I also enjoyed The End of the F***ing World on Netflix. It's a British dark comedy about a teenage boy who thinks he's sort of a young Dexter Morgan who tortures animals and doesn't feel anything. The next logical move is to kill a person, and he picks a quirky girl. However, she's the exact opposite of him: she feels everything, and he soon discovers he's way out of his depth with her. They run away from home and make a series of increasingly bad decisions that puts them at greater and greater jeopardy. Each episode is only 22 minutes, which is just about right. Along with The Good Place, this is the only "comedy" I've enjoyed in recent years, and in this case there aren't many laughs. It's dark.
I binged through The Deuce recently, too. That's the HBO series that takes place around Times Square in the 1970s, created by David Simon (The Wire, Treme) and George Pelecanos, with Megan Abbott on the writing team. If you've been missing The Wire, this is the show for you. Not only does it have that feel, it has a number of actors from that series. James Franco plays twin brothers, one moderately responsible, one not so much. The story involves pimps and prostitutes who walk the streets, the cops who police the streets and the gangsters who have interests in just about everything. It explores violence toward women, but also the change in the sex trade during that period, with pornography attempting to go mainstream (Deep Throat) and the migration of prostitutes into brothels and the creation of personal video booths at porn shops. Maggie Gyllenhaal plays a prostitute who transitions into the porn movie making business. It's also dark, although it has some pretty funny moments, too.
We also took a deep dive into the seventies by watching Battle of the Sexes and The Post. We followed this with The Final Year, a documentary about Obama's last year in the White House. It's a fascinating look behind the curtain, not only at Obama but at some of his most trusted team members. Finally, last weekend we saw I'm Not Your Negro, the documentary based on James Baldwin's outline of a project he wanted to do about Malcolm X, Martin Luther King and Medgar Evers. It's eye-opening, to say the least. For me, one of the most profound lines came when Baldwin said that black people knew white people far better than any white person knew black people because black people have had to watch and be acutely aware of white people all their lives.