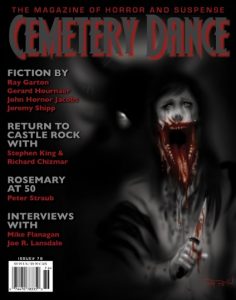 Within a few minutes of each other I received what I assume will be the last acceptance and rejection letters of 2017. The rejection was for a story that I really like that's been out for a long time, so I look forward to taking another pass through it and finding it another home. The acceptance is for an anthology that won't be out until 2019, so at least I have something queued up for the year after next!
My short story "The Illusion" is included in the new charity anthology Shadows over Deathleham. This is book four in the popular holiday anthology series to benefit the Elizabeth Glaser Pediatric AIDS Foundation. It is available as a print edition or for Kindle.
Issue #76 of Cemetery Dance magazine is shipping soon. I have four articles in this one: my usual News from the Dead Zone column, a book review (Sleeping Beauties), an interview with Mike Flanagan (director of Gerald's Game) and a reprint of my interview with Richard Chizmar and Stephen King about "Gwendy's Button Box."
I watched a series on Amazon called Tin Star. It stars Tim Roth as a British law enforcement type who becomes sheriff of a small town in Alberta, Canada. The town is becoming home to a plant extracting oil from the tar sands, which is bringing money and trouble. Christina Hendricks plays the PR wonk who tries to get the town to swallow the bitter pill. It has a number of recognizable Canadian actor, including the old sheriff from Haven. The series reminds me of a blend of Banshee, Justified, Ozark and Sons of Anarchy. The sheriff is a recovering alcoholic and something happens at the very beginning of the first episode to push him into a dark place. The tall Quebecois who is head of security for the oil company is a dangerous force. Plus the sheriff has a teenage daughter. And someone's trying to kill him. In one of my favorite scenes, he stirs up trouble with a biker gang. They catch up with him and he knows he's in for a beating. They tell him he's in for a beating. So he voluntarily lies down on the sidewalk, gets into a tight crouch and lets them kick the crap out of him. It stars with a bang and ends with a bang. Stay tuned for season 2.
Last night I started Department Q, a Danish series of three noir movies, adapted from novels. The scripts are by Nicolaj Arcel, who adapted The Girl with the Dragon Tattoo (the original version) and directed The Dark Tower. The main character is a former homicide cop who makes a bad call and gets busted down to a newly formed division, located in the basement, where he is expected to read cold case files and file closure reports at the rate of three a week. Of course, he finds a case that intrigues him and he goes well beyond his mandate, dragging his unwilling but affable Muslim partner along with him. This guy is about as emotion-free as they come, but he's a good cop. The first one is called The Keeper of Lost Causes. One way it differs from the usual cold case show is that the viewer is supplied with more information than the cops, via flashbacks to the scenes of the crime, as it were.
OK, yesterday it was my top books of the year. Today, let's move on to top films and TV series. I watched a goodly number of both in 2017, and the full list is here, if you're interested. Boy, it sure seems a long time ago when I saw Manchester By the Sea in the theater.
Again, in viewing order, my top 15 films of 2017
| | | |
| --- | --- | --- |
| Manchester by the Sea | La La Land | Hidden Figures |
| Hush | Moonlight | Fences |
| Miss Sloane | Wonder Woman | Beatriz at Dinner |
| Baby Driver | Atomic Blonde | It (Chapter 1) |
| Gerald's Game | 1922 | Murder on the Orient Express |
TV series is much harder list, so I'm going to go with 20:
Fortitude
Hotel Beau Séjour
Hap and Leonard
Better Call Saul
The Leftovers S3
Fargo S3
Anne with an 'E'
Twin Peaks: The Return
Game of Thrones S7
Ozark
Mr. Mercedes
Narcos S3
Mindhunter
Top of the Lake: China Girl
Chance
Stranger Things 2
Alias Grace
Dark
Tin Star
The Crown S2