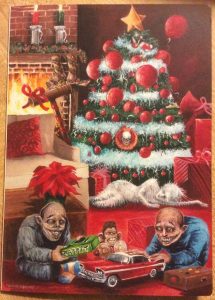 My buddy Glenn Chadbourne pinged me on Facebook earlier this month to verify the name of the device used in King's novel End of Watch. He was working on the Christmas card design for King's office. Yesterday, I was rewarded with the fruits of his labors: a card from that very office with Glenn's creepy characters enjoying their equally creepy presents. I do believe I see Gwendy's button box, as well as a Pennywise ornament and an eerie recumbent figure, in addition to other familiar gift items.
We watched the Christmas special last night. No, not that one. Call the Midwives, which featured a story from the end of 1962 and early 1963, a time during which London endured the Big Freeze, one of the coldest on record in the United Kingdom. This meteorological event had numerous consequences (people dying, waterworks freezing, travel impeded) that are used to good measure in this story. It's not without tragedy and heartbreak, but it's the Christmas special, so everything's all right in the end. Except for the dead people. I have yet to see Doctor Who. Maybe tomorrow night.
We watched Victoria and Abdul the other evening. It's the fictionalized story of the real-life relationship between Queen Victoria and a Muslim from Agra, India who became part of her inner household for the last fifteen years of her life. Judi Dench reprises her role from Mrs. Brown with panache, although I saw some presumably valid critiques of the story in the way it whitewashes and minimizes the effect of England on India at the time. Still, we enjoyed it in the same way we enjoyed The Crown: recognizing that it is, for the most part, a work of fiction with historical characters.
---
Tomorrow, I look more in depth at the movies and TV series  I watched in 2017. Today is about books. By my tally, I read over 60 novels and novellas this year. The number is a little imprecise because I read some books more than once, for purposes of review, and I read some things I can't yet talk about. If you're interested, the full list (with aforementioned caveats) is here.
I'm rubbish when it comes to top-X lists. I would spend too much time quibbling with myself over whether this is #7 or #8. So I present here my top fifteen books from 2017 in no particular order. Or, rather, in the order in which I read them, which is about as random an ordering as I could come up with:
Behind Her Eyes by Sarah Pinborough
Final Girls by Riley Sager
Ill Will by Dan Chaon
Our Short History by Lauren Grodstein
Sourdough by Robin Sloan
The Forgotten Girl by Rio Youers
The Force by Don Winslow
Sleeping Beauties by Stephen King and Owen King
If I Understood You, Would I Have This Look on My Face? by Alan Alda
Strange Weather by Joe Hill
Mindhunter: Inside the FBI's Elite Serial Crime Unit by John E. Douglas and Mark Olshaker
The Ghosts of Galway by Ken Bruen
IQ by Joe Ide
A Legacy of Spies by John le Carré
Into the Black Nowhere by Meg Gardiner
I posted 21 reviews at my book review blog, Onyx Reviews. The list of reviews with links to them can be found here.