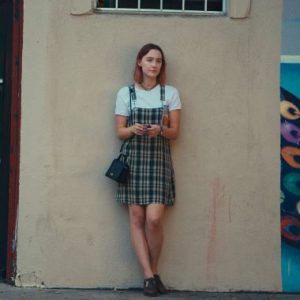 I don't often have a hard time naming short stories, but the one I just finished is giving me fits. Often I have the title before I start writing, but something usually comes to me during the writing process. Not with this one. I wrote it longhand, dictated it into the computer this morning and made one complete proofing pass on it and so far, nada. The story is due on Thursday, so I'm hoping inspiration will strike. I do have something to fall back on, but I don't like it very much.
The weather was really nice here in Southeast Texas for the four-day weekend. Unseasonably warm. We were able to dine outside a couple of times and hang out in a driveway with a glass of wine a couple of others. On Sunday we went over to Market Street (I got the show time wrong, so we had the better part of an hour to kill) and stroll around the park, watching all the families with little kids enjoying the warm weather, too. We saw Lady Bird, starring Saoirse Ronan and Laurie Metcalf as daughter and mother. The story takes place during Ronan's character's senior year in Sacramento, California. She attends a Catholic school and is determined to go somewhere interesting on the east coast for university, although her grades and the family finances limit her possibilities. She's a bit of a wild child, and has a lot of conflict with her mother, while her father is a calm, stabilizing influence, despite his own issues. It's warm and witty and pretty funny at times. My favorite bit was when the school coach is enlisted to take over directing The Tempest and he uses a blackboard and football strategy to block out the play. The movie has the feel of a letter from the screenwriter to her own mother. It currently has the best Rotten Tomatoes score of all time: 100% from over 160 reviews.
We saw a rather bizarre movie on Saturday evening. Capturing Mary stars Maggie Smith and Ruth Wilson (Luther, The Affair), who plays the younger version of Smith's character. Smith stumbles into an old mansion in NY, maintained by a young caretaker, and proceeds to tell him about her misadventures there as a young woman. She met up with a mysterious man played by David Walliams who, to me, was an avatar of doubt. He liked to go around to famous people at parties and say things to them that seemed complimentary at first but ended up coming off as back-handed. He unsettles Wilson's character's by telling her some terrible secrets about people he's learned over the years, and the phrase "living rent free in her head" comes to mind. He manages to destroy all of her confidence and her promising career as a writer fizzles. Apparently part of a loose trilogy of films. We weren't quite sure what to make of it when it was over.
We're almost to the end of Longmire. Just one episode left to go in the final season. There was one monumental surprise involving a semi-major character about halfway through the season, and one character from Season 4 is getting a chance to redeem himself. We'll be sorry to see it come to an end.
On a whim I decided to reread Murder on the Orient Express last weekend. I couldn't tell you when I last read it. Maybe as much as 30 years ago. It holds up remarkably well. It's a fast read, but it's fun to see how Christie lays out the clues and the red herrings so deftly. It's an amazingly well plotted story despite how convoluted and unlikely it is.
I also read A Legacy of Spies, the most recent by John le Carré, which takes an aging, retired spy back to some of Smiley's most infamous cases. Also recently IQ by Joe Ide, which has a strong Walter Mosely vibe. Winner of the Edgar for Best Debut Novel.  And Damaged by Pamela Callow, which is set in my old stomping grounds of Halifax, Nova Scotia, which added a layer of interest for me.