Reports of snow in Texas started coming in yesterday evening. I saw comments on social media from Laredo, Austin and San Antonio. The forecasters said we might get flurries in the Greater Houston area, and when I went to bed the precipitation was decidedly thick. Sleet, at the very least, but it wasn't accumulating.
So imagine my surprise when I looked out the back window at 5:00 am and saw: a very confused and irate possum. Oh, yeah, and snow all over the ground and trees.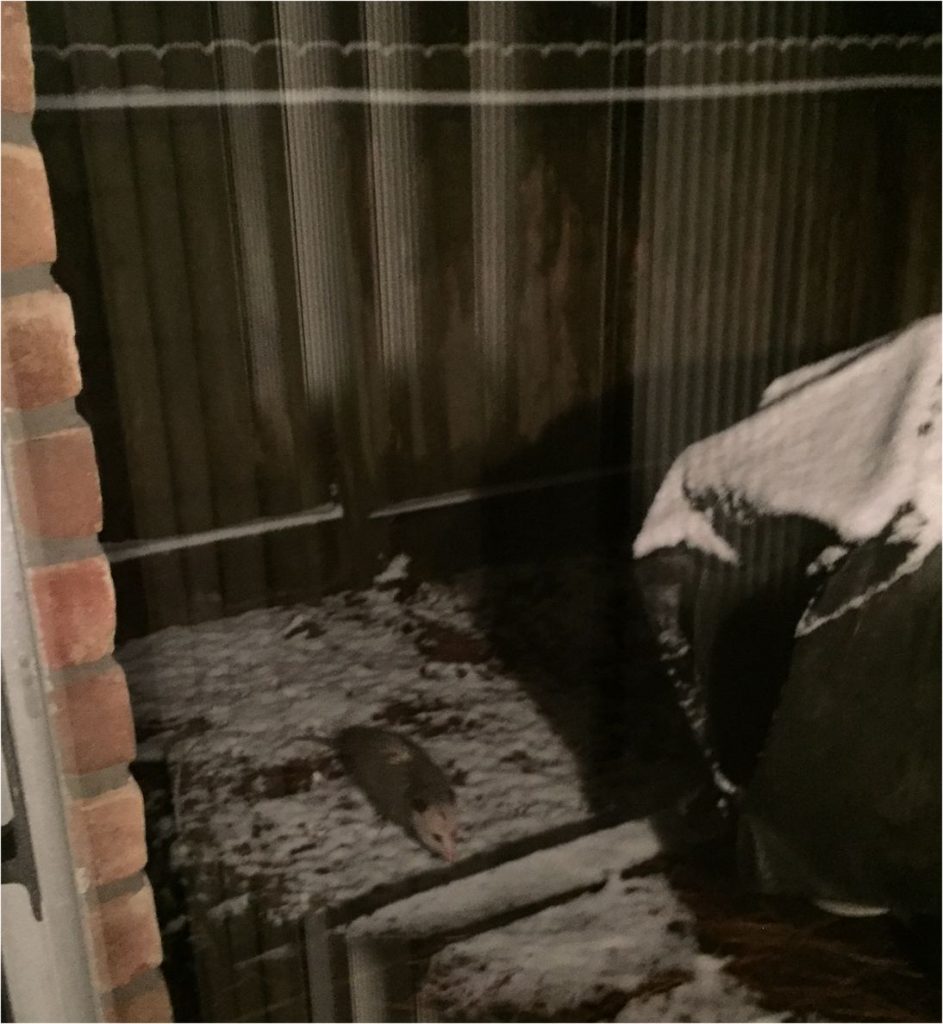 For perspective, the fence behind it is six feet tall and that big black thing to the right, with the snow all over it, is our gas barbecue. This possum was big! At least as large as a cat.
I took a few pictures then went up to my office to work for a couple of hours. I looked out the window later, after the sun was up, and realized how beautiful it looked outside, so I went out and snapped some pictures.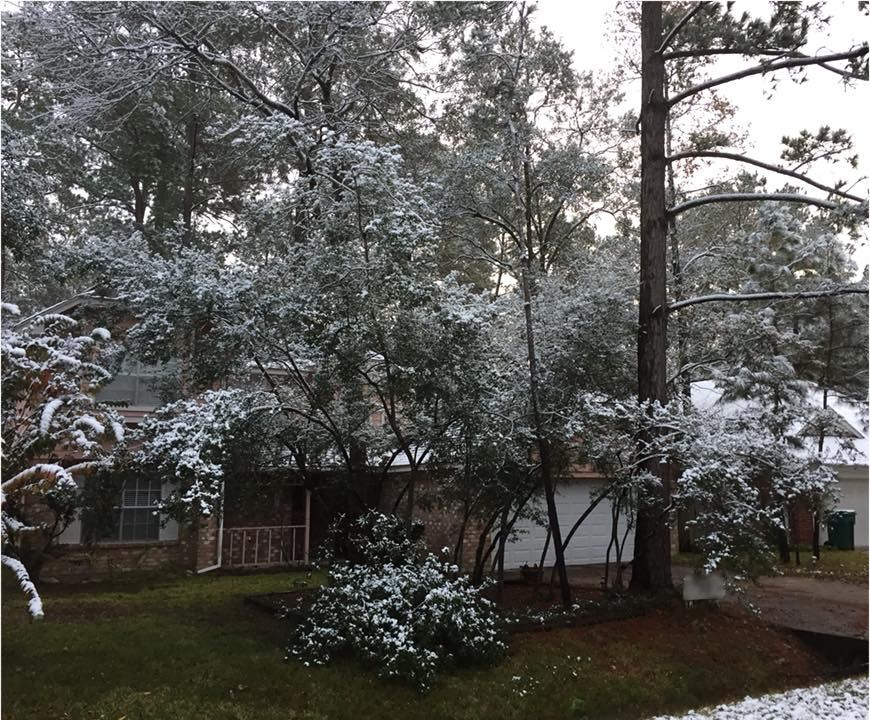 The ground was warm enough to melt the snow, but it was still 32° out, so the snow stayed on the trees and bushes. The grandson of our neighbor across the street built a little snowman. Overpasses and bridges froze, so there were plenty of accidents in the area. No one around here knows how to drive in the winter. School openings were delayed to give the roads a chance to clear. Surprisingly, by mid-morning, there was still snow on the trees and car rooftops. No doubt it will all be gone soon enough, but it was a pleasant surprise. Alas, there's no way to hold onto it for Christmas, when family arrives for vacation.
---
My binge viewing this week was the new German series on Netflix, Dark. Some people are referring to it as Darker Things, and there are a few comparisons to be drawn to Stranger Things, but it is very much its own thing. As much as I liked the Duffer Brothers' series (and I liked it a lot), I think I liked this one even more. I never knew what was coming next (although I did guess one of the major mysteries early on). Other comparisons have been made to Twin Peaks, but it's not quite that weird, and to Lost, which I think has merit. I see a strong connection to 11/22/63. It takes place in 2019 in a small German village that benefited from the building of the first nuclear power plant in Germany in 1960. That plant is about to be decommissioned. A boy has been missing for nearly two weeks and by the end of the first episode another one will disappear. There are ties to events from 33 years earlier (and, ultimately, to 33 years before that). It's a creepy mystery with dead sheep and mutilated bodies and plummeting birds.
The default play mode on Netflix is to overdub the audio with English voices, but that is terrible, in my opinion. Play around with your settings and switch to German audio (not German descriptions, which is also an option) and English subtitles for a far better viewing experience. My biggest problem with the series was the fact that there's a very large cast of completely unfamiliar actors, and some characters appear as younger versions of themselves played by different actors. The director takes some steps to help viewers link up who is who, but it can still get somewhat confusing. I feel like I need to watch it all over again, now that I'm more familiar with the characters.
That past influences the future, but the future also influences the past. It's cleverly constructed and they obviously knew the ending when they started or else none of it would hold together. I have no doubt it will get picked up for a second season, and I cannot wait.